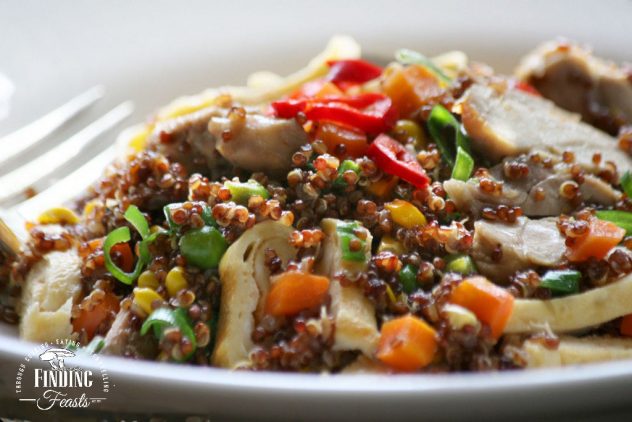 Looking for a ridiculously tasty and healthy dish for dinner tonight? Well go no further… Vietnamese Chicken w/ Red Quinoa Stir Fry is what you've been looking for!
This is an outstanding, flavour packed chicken meal that honestly, you can whip up in half an hour… Even quicker the second time round once you have made the big batch of marinade. Just store what's left in a large jar and it will keep for ages in the fridge.
The Vietnamese marinade is so versatile that you can use it with both red and white meats or fish to baste or marinade with and also as a dipping sauce.
I'm reasonably new to quinoa and fell in love with it from my first taste. The texture is amazing also, particularly with this red quinoa, almost like little caviars that kind of burst in your mouth. This red one is particularly yummy with a slightly sweet taste that complements Asian cooking so well.
A little something you may not know about quinoa is that it's actually related to green leafy vegetables like spinach. Maybe that's why it's such a super food, covers all bases!
If you haven't had a chance to taste this yummy grain yet, you won't be disappointed with this dish.
Warming comfort food… Blondie
(Visited 32 times, 1 visits today)