Warm Thai Style Beef Noodle Salad w/ Poached Egg is a 'throw together' recipe so measurements are rough, just add as much or little of the ingredients as you like…
Ingredients
500g beef rump – aim for about 200-250g per person
Marinade
3 tbs soy sauce
3 tbs honey
3 tbs oil
1 clove of garlic, minced
1 small knob of ginger, grated
1/2 lemon rind, grated
1/4 tsp liquid smoke – optional
Salad
handful of mix lettuce leaves per plate
handful of grape tomatoes, halved
1/2 raw beetroot, grated
1 carrot, grated
1 block of dried rice noodles
1/2 raw zucchini, grated
1 avocado
2 tbs apple cider vinegar
1 tbs oil
2 eggs  or 1 per person
Method
Mix together the marinade and pour over the rump steaks. Leave to marinate for an hour or so (see below for my tip).
Prepare the rice noodles as per instructions on the packet and set aside.
Prepare each plate with the vegetables and noodles when they are ready.
Cook the meat to your preference, just make it hot and quick then let the meat rest. Strain and reserve the cooked marinade and then mix in the oil and vinegar to make a dressing.
Poach your eggs – You have two poaching methods depending on you poaching abilities…
Option 1: Cling film method (clean and easy but rubbish producing)
Place a piece of cling film over a small non grippy bowl. Spray with a bit of oil if you don't know if your cling film will or won't stick to the egg (most will) OSO Cling Wrap doesn't need any oil. Place wrapped egg into boiling water and cook for 4 minutes if it's come from the fridge, a little less if it's at room temperature.
Option 2: Saucepan method
Bring a sauce pan of water and 2 tbs white vinegar to a slow bubble. Carefully drop in an egg that you have cracked into a small bowl and leave to cook for 3 to 3.5 minutes, again a little less if the egg was at room temperature.
Back to the recipe…
Slice the cooked rump and mix in with the salad. Drizzle over the vinegar/marinade mix, place on some sliced avocados and the poached egg, season with salt and pepper and then enjoy!
Tip for marinating meats…
If you have bought meat in bulk, or like me, have a husband that did really well at the meat raffle, then bulk marinate… Write the ingredients on the bag so you remember which marinade is which – I like to start with a base such as soy and honey for example and then divide that up, adding different ingredients to each batch.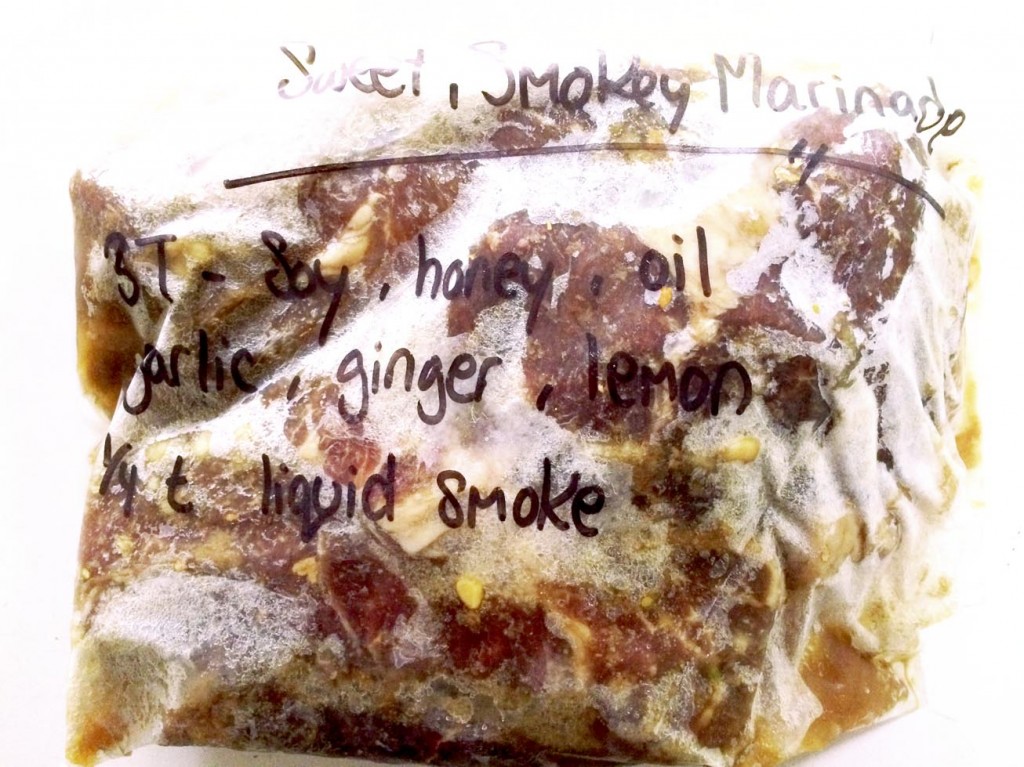 (Visited 74 times, 1 visits today)