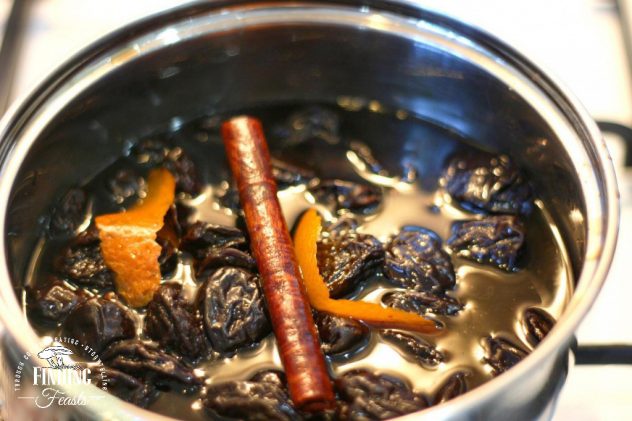 Prunes in Port and Spice Syrup, Christmas is only 10 weeks away so Bella and I are going to start getting our traditional Finnish and Polish recipes together.
This one is in preparation for the Finnish prune tarts that are eaten at Christmas time, although I have done it slightly different to traditional recipes, in that I have added some traditional Christmas spices to the port.
Finnish Christmas' are celebrated on the 24th of December (in case you were wondering, Santa generally sneaks into the house while we are all around the dinner table, or conveniently distracted by something amazing) with huge feasts of hams and other roast meats, casseroles and salads – mum does an incredible beetroot and herring salad that's just so scrumptious and works perfectly with the heat of the Australian Christmas. There are also lots of sweet dishes eaten but the main two that we grew up with are gingerbread biscuits and Finnish prune tarts – joulutorttu.
This prune in port syrup recipe is for making the prune jam that goes into the centre of the tarts – the jam is normally made with just prunes, sugar and water then pushed through a sieve or blitzed in a processor till it's to a jam consistency. I have decided to have the prunes soak in the port and spice syrup till I make the tarts, which will be in a couple of weeks… I was also craving the syrup, warmed up, on ice cream – a girls to satisfy her cravings!
Don't be put off with the idea of prunes as once you have tried them this way there's no going back…
Blondie 🙂
(Visited 548 times, 18 visits today)