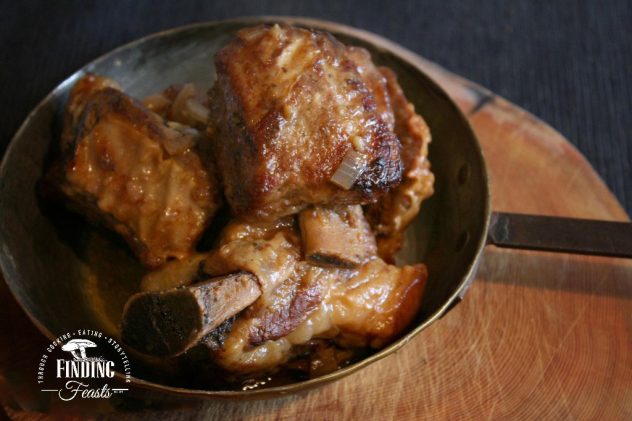 Low & Slow Beef Ribs – Picture this… Thick pieces of beef cooked slowly and oh so low till it can no longer hold firm to it's supporting centre, finally, succumbing to the heat and relinquishing it's grip, falling languishingly off the bone…
Anyway, back to business. This weekend in Sydney is going to be cold and a bit rainy, finally! And of course I don't have any warm jackets. I left my favourite one in New Zealand late last year, which I will be picking up later this year, and then left my new replacement one in Canberra a couple of weekends ago. Not impressed!
After hankering for something slow and luxurious for this weekends cold snap I decided to go with one of my most favourite cuts, and that is ribs. The beef ones especially as they have a good amount of meat surrounding the bone and just fall apart when eaten.
This weekend will be spent cooking and it only just occurred to me that although there really isn't that much difference between an oven and a slow cooker, the number one biggest benefit for me is that the slow cooker frees up the oven. With my beef ribs slowly cooking in the cooker on my bench top, I will be able to have several different dishes going in and out of the oven throughout the day. Not at all possible if my ribs were occupying it for 7 hours or so.
This dish is best served the next day as quite a lot of fat comes out of the meat. The best way to get rid of it is to let the fat harden in the fridge and then just skim it off with a knife in one big chunk – that being said, it's impossible not to eat it on the day it's cooked after having the smell wafting through the house all day!
Happiness is a cold weekend… Blondie  🙂
(Visited 40 times, 1 visits today)