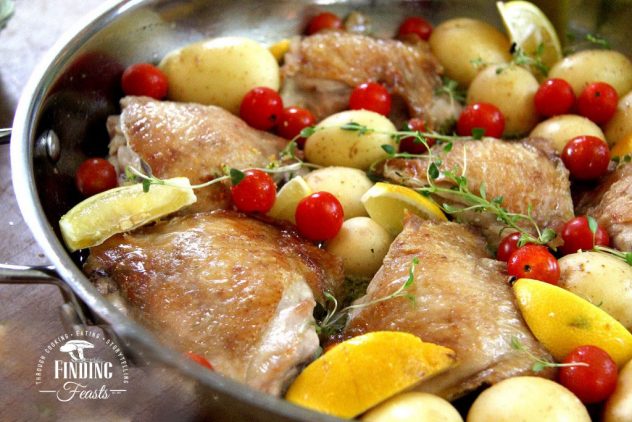 Lemon & Garlic Chicken w/ Chat Potatoes is a zesty full flavoured casserole that is super quick to whip up.
It is Bastille Day today, and even though I have no known French ancestry, well not in my immediate family tree, it's always fun to work with a theme.  This isn't a traditional french dish but with it's simplicity and flavours of lemon, garlic and thyme it certainly could be.
When most people think of french food they think it would entail the use of lots of ingredients, be loaded with cream or butter or be very labour intensive when it actually can be quite the opposite… fresh quality meats and seasonal vegetables with accents of herbs and other flavourings are what make the ease of french cooking into some of the most memorable meals you could make.
This one is no exception. Start with fresh, 'happy' chicken; keep the skin on and the bone in if you can as it adds a lot to the flavour.  Don't fuss around with too much prepping as the time it spends in the oven does all the work for you.
Jouir!  Blondie 🙂
(Visited 11 times, 1 visits today)