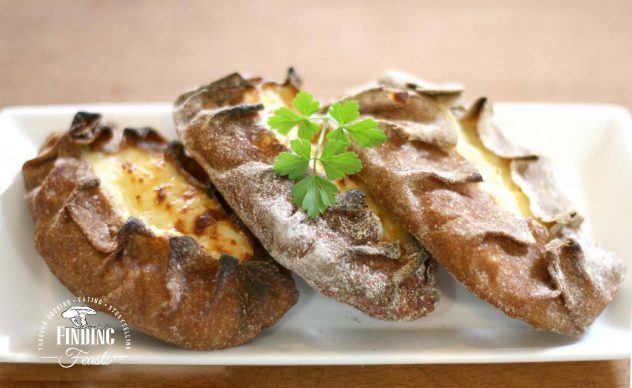 Karjalanpiirakat – Finnish Karelian Pies are a delicious, creamy rice filling encased in a thin rye bread and then topped with an egg and butter mixture. I realise that it may not come across as particularly inviting, but they certainly are a joy to eat.
Karelian Pies are one of the most traditional of Finnish dishes and are in fact a protected dish by the European Union.
These pies are eaten at most gatherings that my Nana holds, with a friend of hers now the designated Karelian Pie maker for her and probably a majority of the Finnish community in Canberra.
I have only just come to learn the reason that Nana doesn't make them herself, and that is because the first time she did made them, Grandpa had said to her, "If this is the best you can do, then don't bother making them again".
My husband is amazed that he lived past that point!
The number one key to making these is to make the rye base as thin as possible… and then go thinner.
Number two is to make sure there is enough salt in the rice mixture otherwise it will be just too bland.
These are a process of love, enjoy it – Blondie 🙂
(Visited 114 times, 1 visits today)