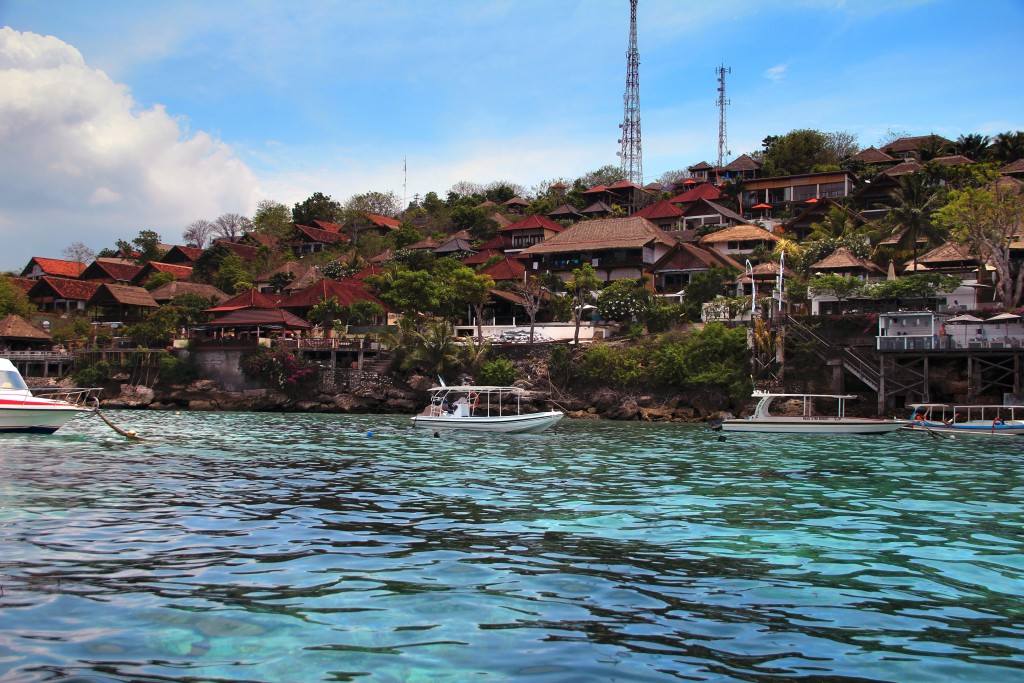 Nusa Lembongan is a short speed boat trip from Bali but a world away from the hectic hustle and bustle of Kuta and Seminyak. The island is approximately 4 km from end to and and if you ignore the few resort style hotels that have started to pop up you really do get to experience the authenticity of life, a certain laid back, back to basis kind of lifestyle. The island is very popular with day trippers from the main land however a day is definitely not long enough to explore this beautiful island where you'll find crystal clear blue water, sandy white beaches, the locals going about their everyday life of seaweed farming, 12 or 13 year olds riding their  scooters to the local school or selling their hand made goods on the side of the street. It is the perfect place to visit if you are a keen surfer, into snorkeling,  paddle boarding or just want to get away from it all. The island boasts spectacular views and killer sunsets, all overlooking Mt Agung, Bali's largest active volcano, strikingly beautiful to wake up to each morning.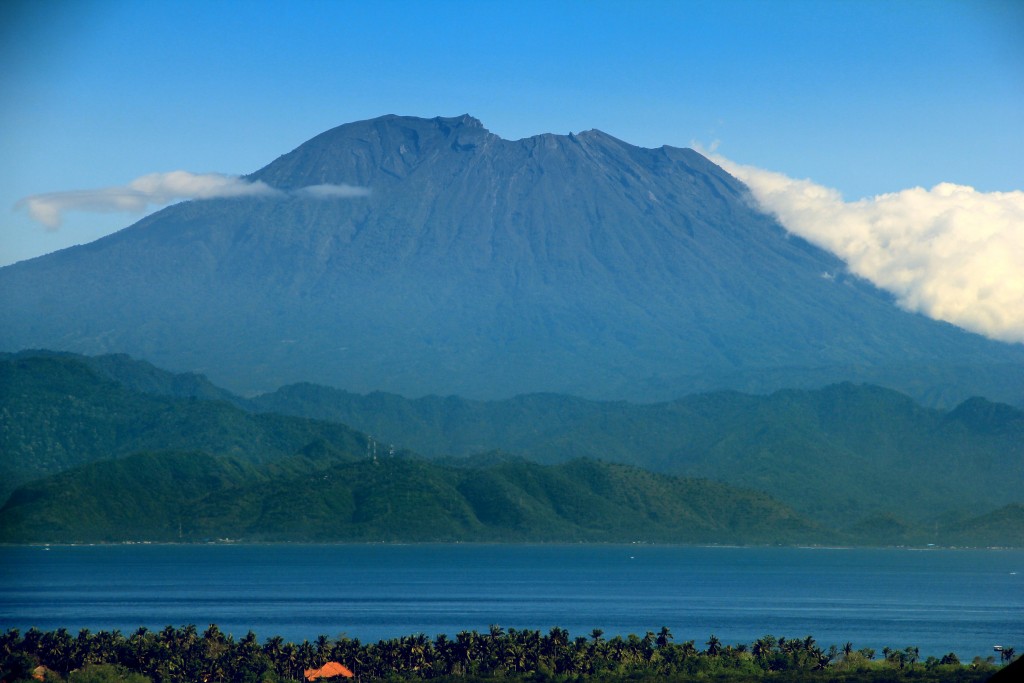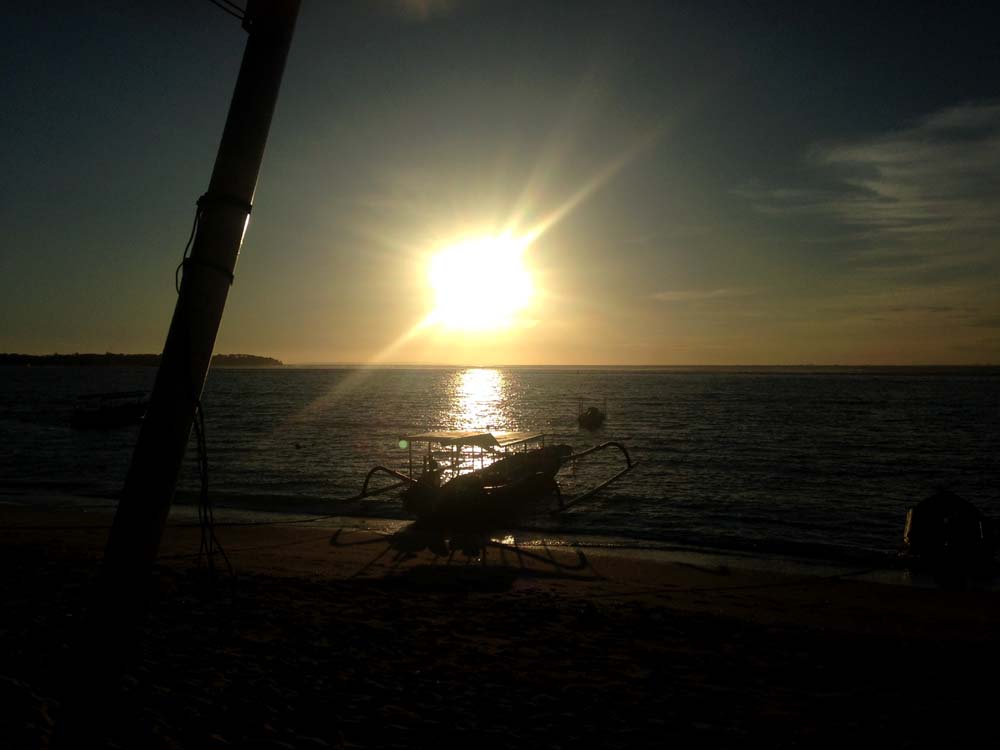 Having previously stayed in Kuta, Seminyak, Nusa Dua, Lovina, Singaraja and Lombok we wanted to stay some place a little more remote, traditional and back to old school Bali. Nusa Lembongan it was and Villa Bukit was to be our place of residence over the Christmas break.
Getting to the island
There are plenty of boat charters that can be booked however I strongly recommend that you do your research. Quality and safety standards do vary from company to company. We had booked with Rocky Fast Boats. Their reviews were great, however our 4 engine speed boat did loose 2 of its engines half way across the strait. The seas throughout our crossing were calm-ish, thank goodness for that. My recommendation for anyone wishing to get to the island is to book the fastest and largest boat available. The seas across the strait can get rough at the best of times, the bigger the boat the less sea sick you get….in my opinion!
Rocky's runs a free bus pick up service from Jimbaran, Kuta, Seminyak, Legian and Sanur. Pick up is 1-2 hours prior to the boat's departure. Our round trip cost us 500,000 IDR per adult and 300,000 IDR per child.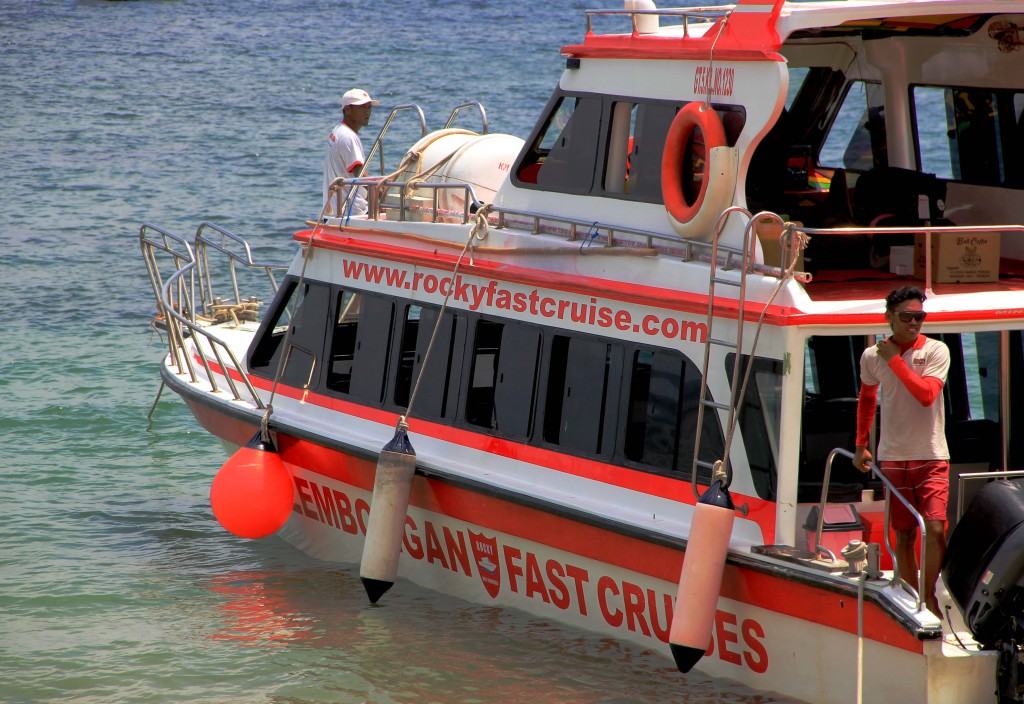 Once On the Island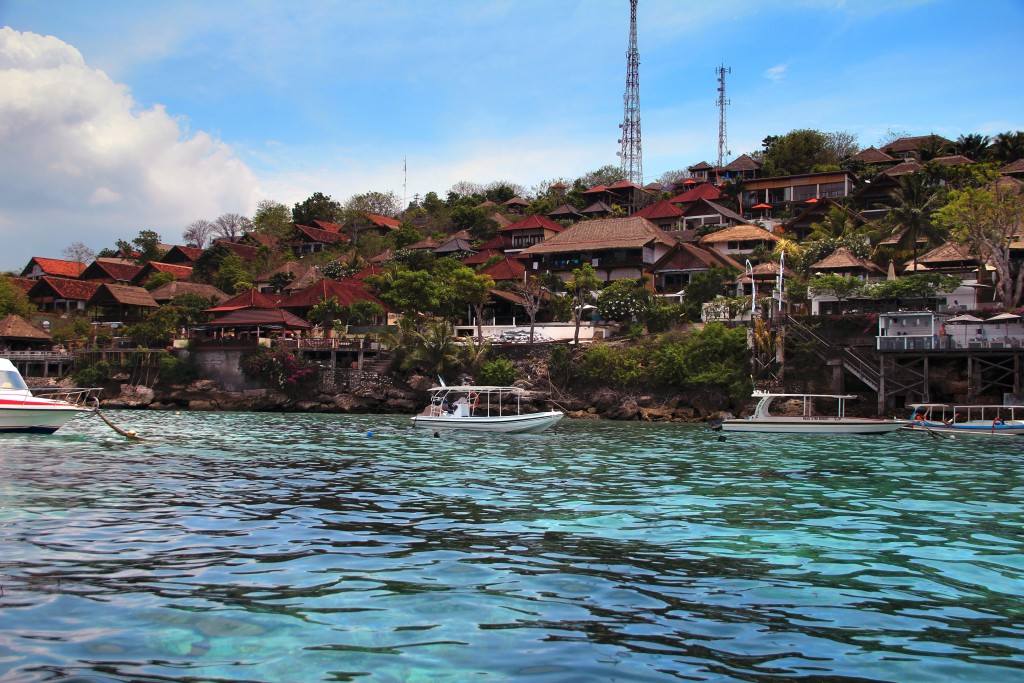 Snorkeling
With it's crystal clear blue waters, snorkeling with your family is a must! A huge difference when compared to snorkeling in Bali. We booked our snorkeling, banana boat and glass boat ride through Rocky's. We had an amazing time. There were plenty of fish and coral about. Our snorkeling gear was brand new and the glass bottom boat in immaculate condition. I do recommend booking a morning trip, you'll find the locals will say that the conditions are best earlier in the morning as opposed to the afternoon. Cost per person was equal to $40 per adult and $25 per child.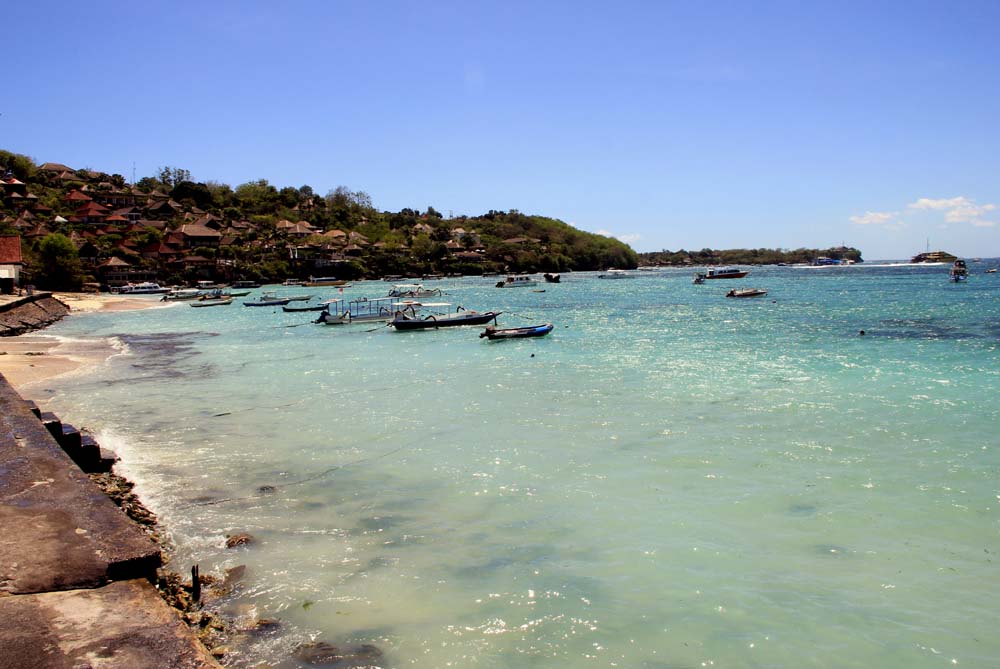 Word of advice: We saw plenty of tourist get in trouble in the water due to relatively strong currents. Ensure you have a life jacket and always float with the tide, not against it. You will loose less energy that way. The people that got in trouble from the other boats were those that swam against the tide. The driver of our boat dropped us off at a point and then floated down the current with us. Ensure the driver of the boat stays focused on your own group.
Surfing
Neither hubby or I are surfers, but love watching the surf. Playgrounds, Lacerations and Shipwrecks are all within your reach. I was hoping to catch a glimpse of the shipwreck however was told by the bar staff at one of the restaurants that the Balinese government removed the wreck about 5 years ago.
Paddle boarding & kayaking in the mangroves

Both of these activities were on our list of things to do however there was not enough time to get them in. Jangut Batu's calm waters make perfect conditions of paddle boarding so this will definitely be an activity we would look at next time. We loved chilling back at The Deck bar and having a birds eye view of those on paddle boards, or falling off them!
Seaweed farms
The island relies on two things, tourist and seaweed farming. Take a drive to Sea Weed Road which is on the way to the Suspension bridge joining Nusa Ceningan and take in the view of the beautiful seaweed farms.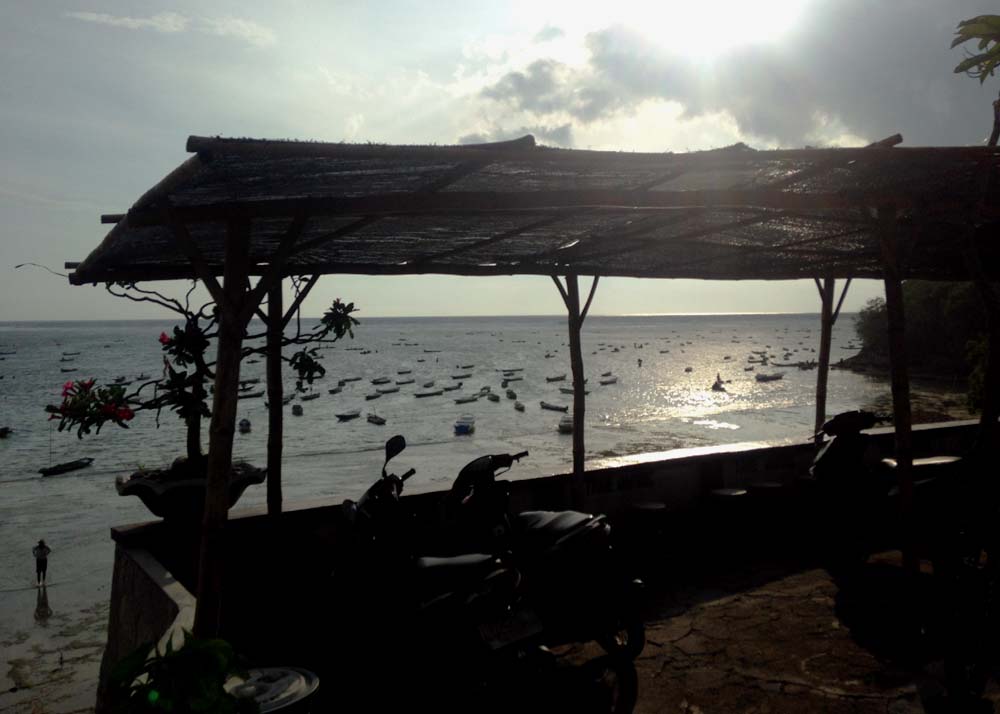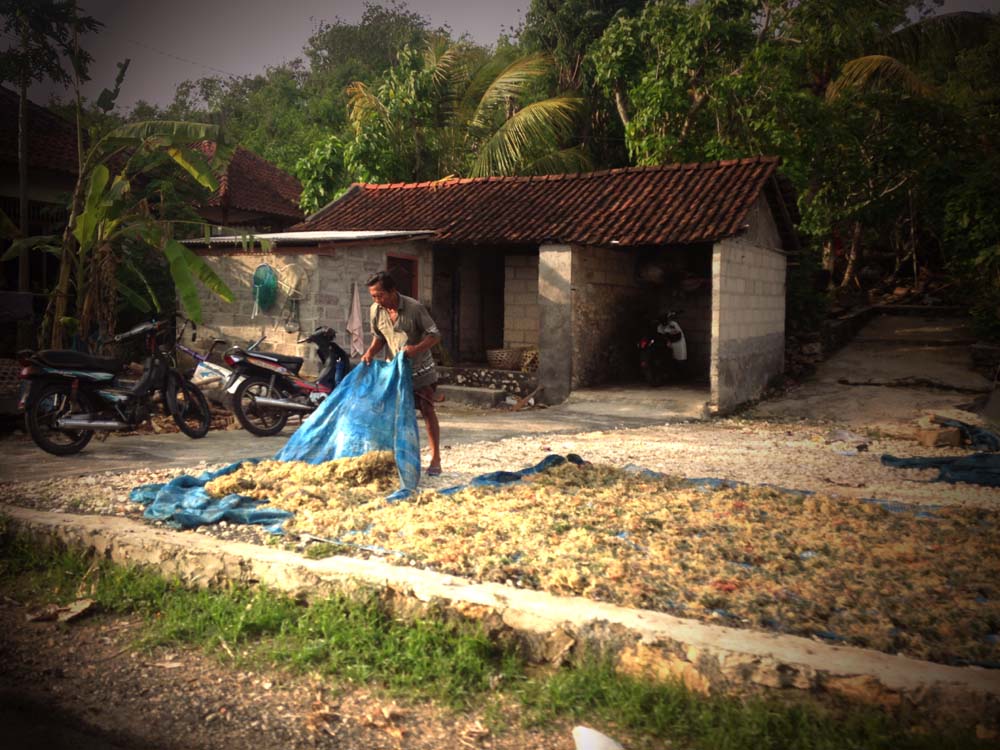 Visit the Suspension Bridge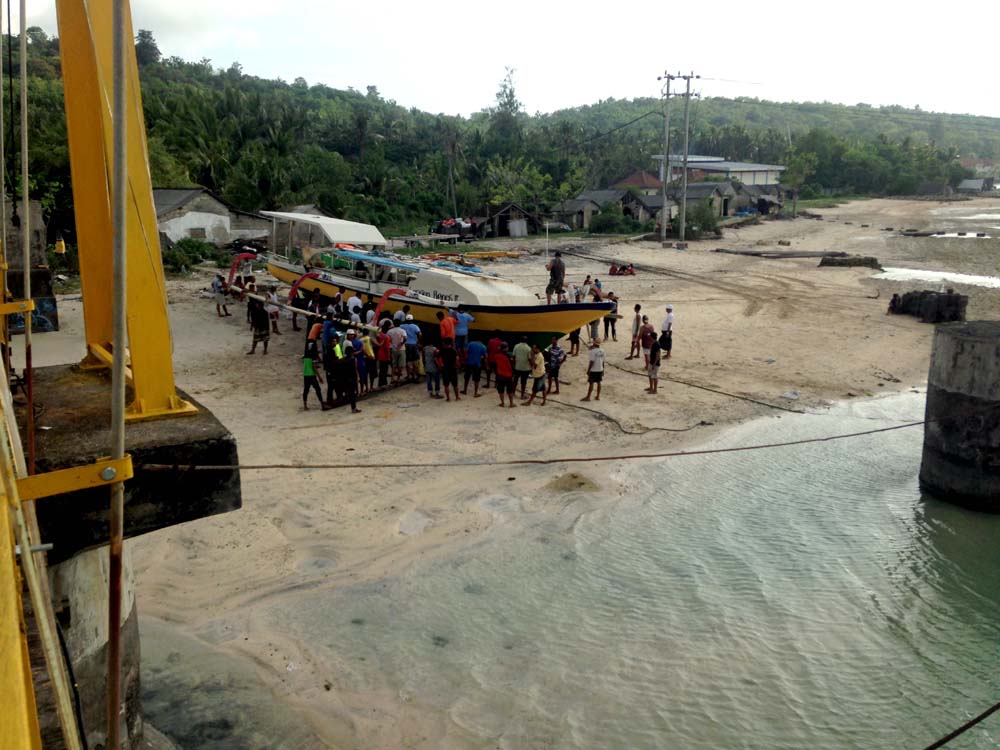 The Suspension bridge is nothing too spectacular however does connect Nusa Lembongan with Nusa Ceningan. Getting across the bridge is either done by walking or on your scooter, even then it is pretty tight. The area surrounding the Suspension bridge gives you a better look at traditional local life. On our walk we came across the local village men trying to push a boat back into the water, positioned directly opposite a massive concrete pylon.
Getting around
One of the best things about the island is that there are virtually no cars! To get around you have the option of hiring a golf buggy which sits 4 people or a scooter. The buggy is quite expensive, $100 USD per 24 hours, the scooter is $35 for 24 hours. We hired the buggy at first but changed to a scooter after the first day. The scooter comfortably fit 3 of us, Miss H in the front, Mr H steering it and me on the back. A family of 3 Bali style. Our cruise speed was approx 20 km per hour, 30 max when Miss H was not on it with us. The scooter was much easier to maneuver through some of the traffic and tight streets.
If you choose not to hire a buggy or scooter the major restaurants / bars do also offer a free shuttle pick up and drop off service to and from their restaurant depending on the location of your villa.
Warning: If you do hire a scooter and have never ridden it before, don't be fooled by the slow pace of Nusa Lembongan, make sure you go for several test rides before you take pillion passengers. Trust me, you will thank me for this. Colliding with a mini truck whilst taking a corner with your child on the back is the last thing that you want to be doing, no it didn't happen to us, but we saw it happen and it was pretty scary.
Shopping
The island has no major supermarket. We had our villa manager purchase our goods from the Bintang supermarket prior to our arrival. The island has plenty of corner stores that sell fresh fruit and veggies. If you are looking for fresh milk be sure to always check the used by date, the power goes out almost daily on the island, meaning cold things do get warm and go off.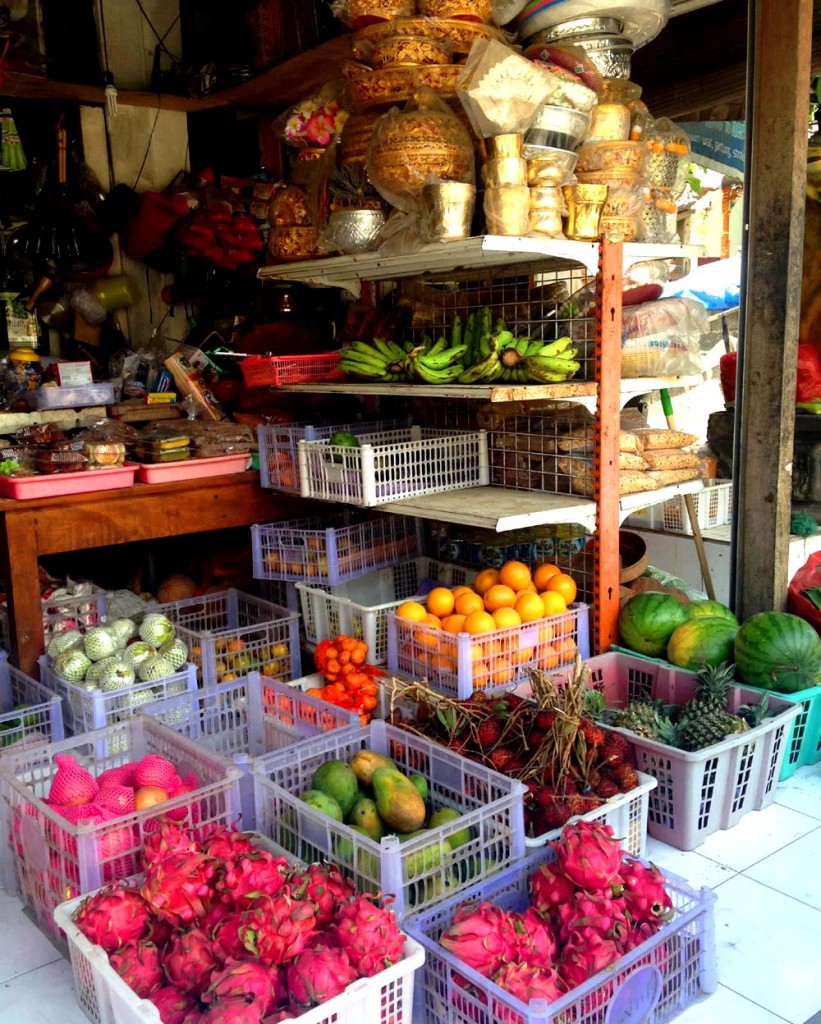 Bella's tips for Nusa Lembongan
The island definitely runs to a much slower pace than Bali. We had a lovely time however if coming again we would probably do Bali first and then Nusa Lembongan and reduce our stay to 3 nights. Villa Bukit was only an approximate 10 minute scooter ride to the beach, bars and restaurants however we did feel a little isolated, unlike Seminyak or Legian where the restaurants are at your door step.
Boat transfers – book with a reputable company that has plenty of feedback. Check to see that they have courtesy pick up and drop off service from the harbour to your Villa or hotel. Best to leave mid morning to cross the Badung strait.
Money…money…money! I can't stress this enough but ensure that you take out enough cash for the duration of your stay prior to coming to the island. Nusa Lembongan  has only 1 ATM, yep you read right and 90% of the time that ATM either runs out of money or is faulty. If you are there over Christmas or public holidays the ATM will not be serviced. Not having cash restricts your food choice ability, some of the smaller and funky road side Warungs do not accept credit cards. Having cash increases your bargaining ability.
Insurance, definitely ensure that you have travel insurance and are covered for water sports!
Highly recommend Nusa Lembongan for your next visit, especially if you are looking for a super chilled out family holiday!
(Visited 337 times, 1 visits today)