Makes about 50 cookies (depending on the size of your cutter)
Dough needs to cool in the fridge (2 hours or overnight)
Ingredients
300g butter
250g golden syrup
300g white sugar
3 eggs
2 tsp ground cinnamon
2 tsp ground ginger
2 tsp ground cloves
1 kg plain flour
3 tsp baking soda
Icing sugar and decorations if decorating your cookies
Method
Start by beating the sugar and eggs together till light and fluffy and then set aside for later.
Next, place 250g of golden syrup (tip: spray the measuring cup or spoon with oil so the syrup can neatly pour out) 2 teaspoons each of cinnamon, ginger and cloves into a medium to large saucepan and gently heat up.
Add the 300g of butter and stir while the butter melts.
Mix in a bowl, about 1 cup of flour with the 3 teaspoons of baking soda and pour this into the golden syrup/butter mixture. It will bubble up.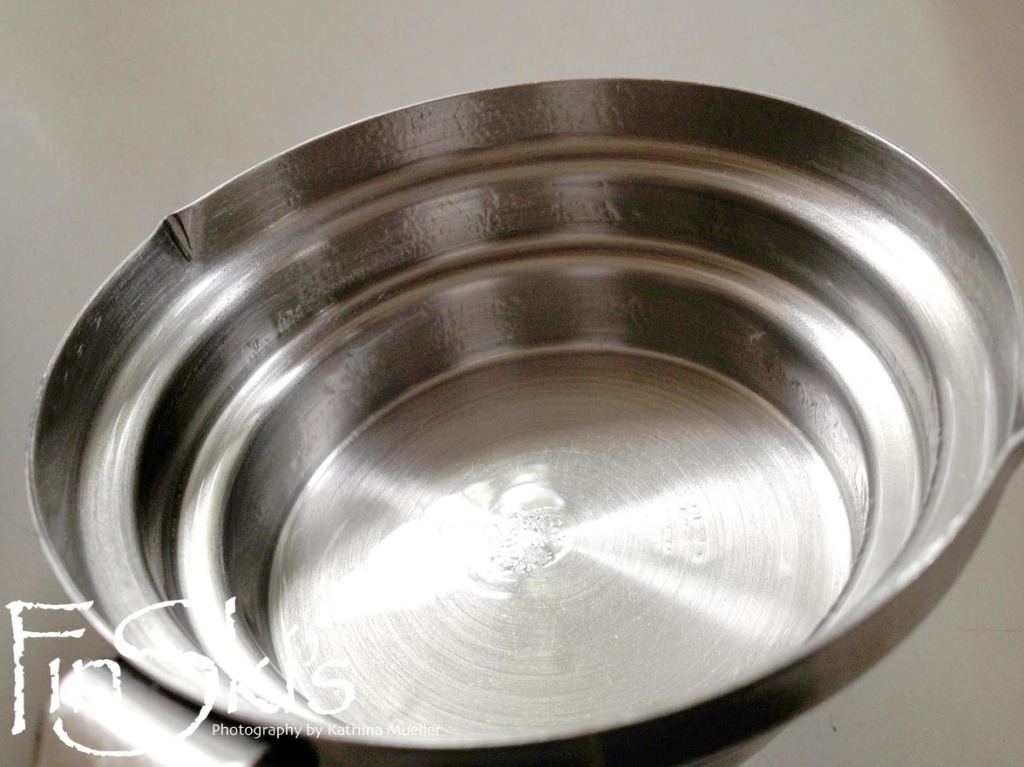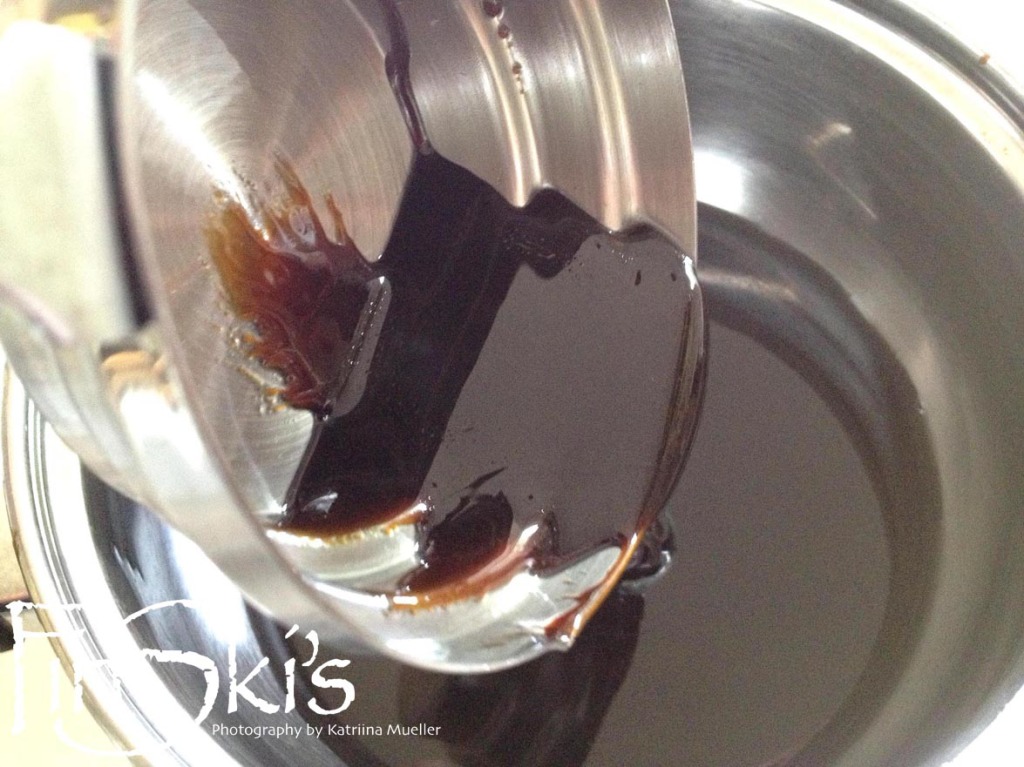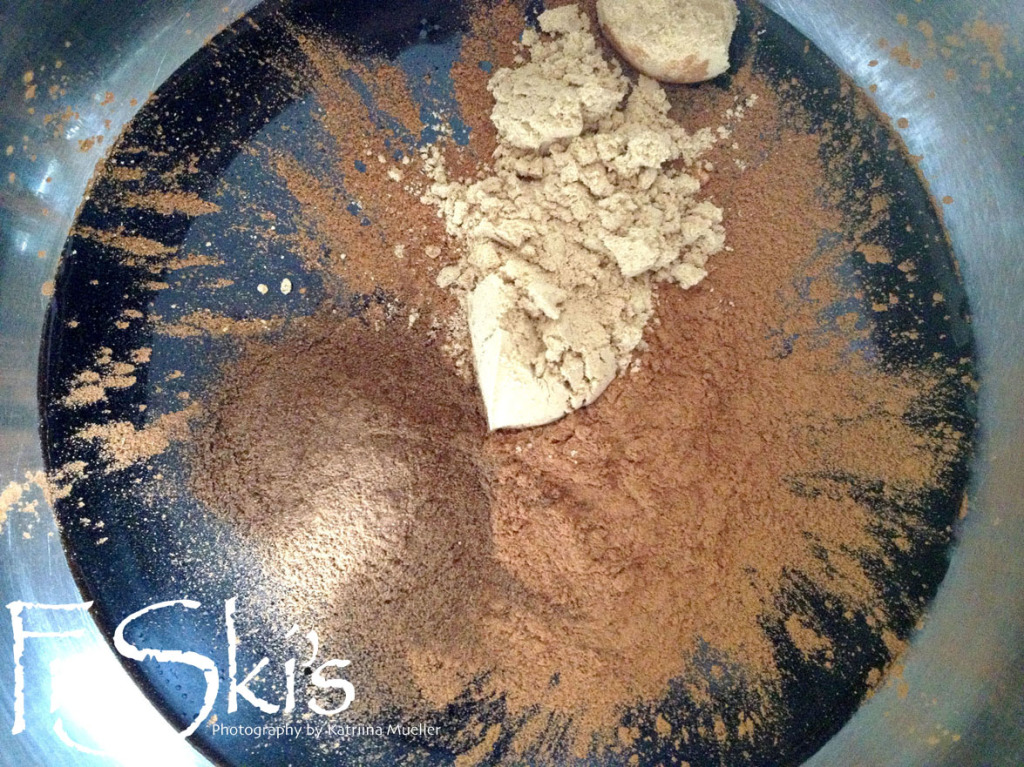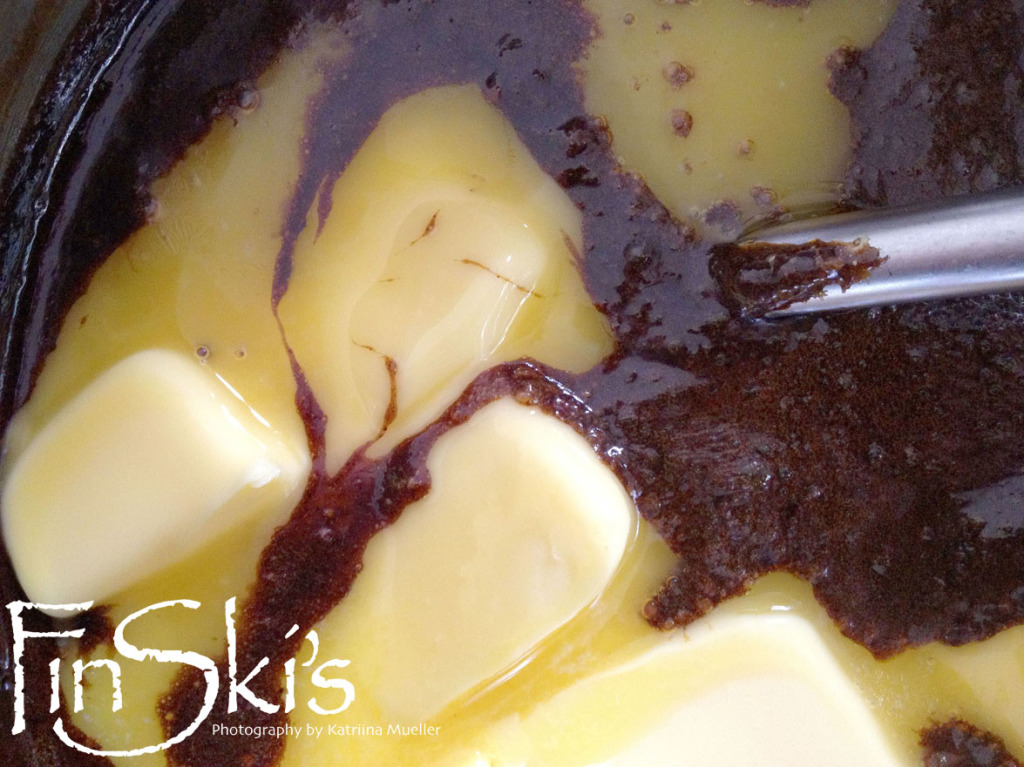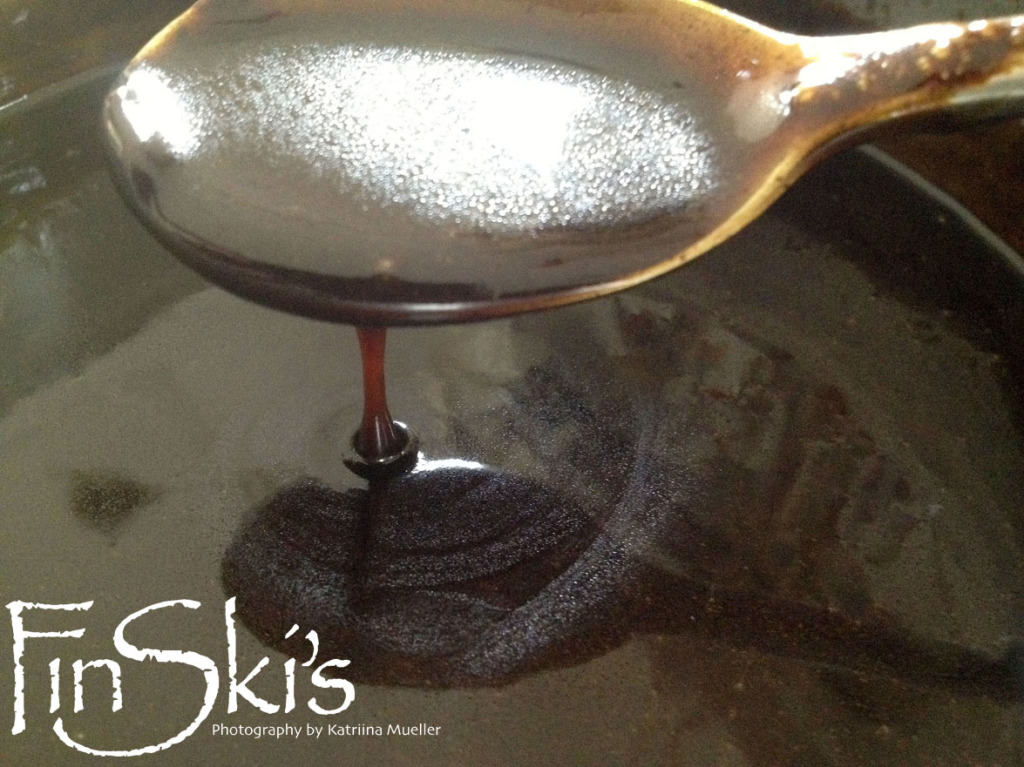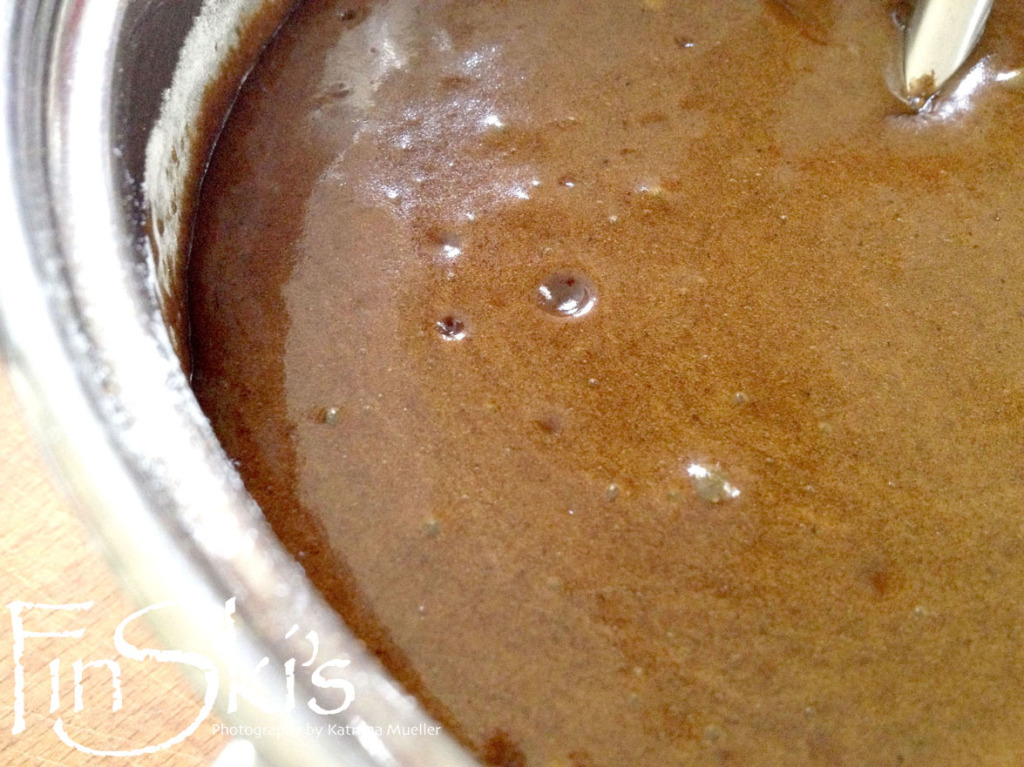 Place half of the flour into a large bowl and stir in the egg/sugar mixture.
Add the half golden syrup mixture, stirring to incorporate, then add the rest of the flour (you may not need all the flour so just add and stir till it's a stiff dough.
Place the dough on some cling film and refrigerate at least a few hours, if not overnight.
Pre heat the oven to 190C / 375F
Once ready to make your cookies, remove the dough from the fridge and cut off a wedge to roll out.
Roll out the dough till quite thin, about 4mm and cut out your shapes. If you are wanting to make decorations then remember to push in holes for you to thread ribbon through.
Place in the oven and cook for 10-15 minutes.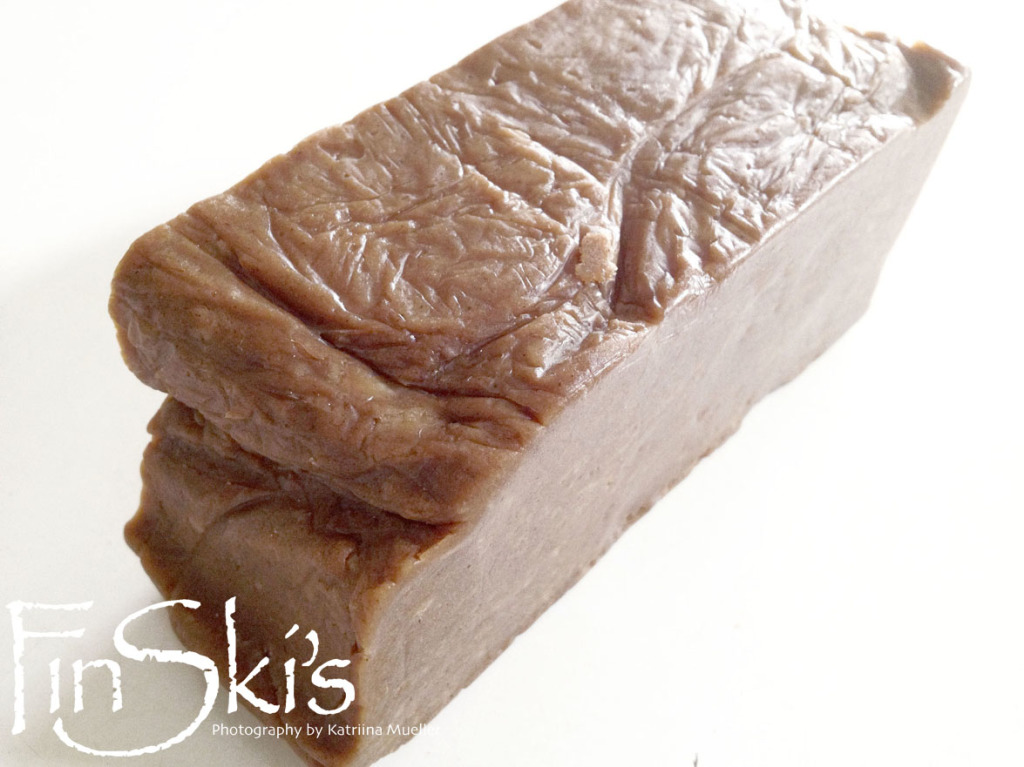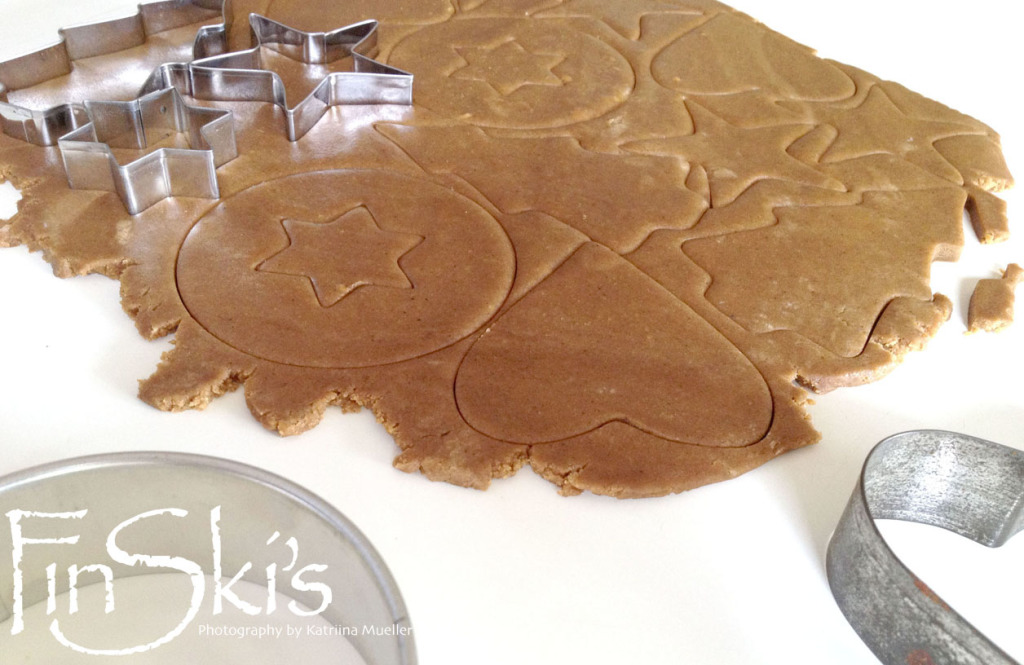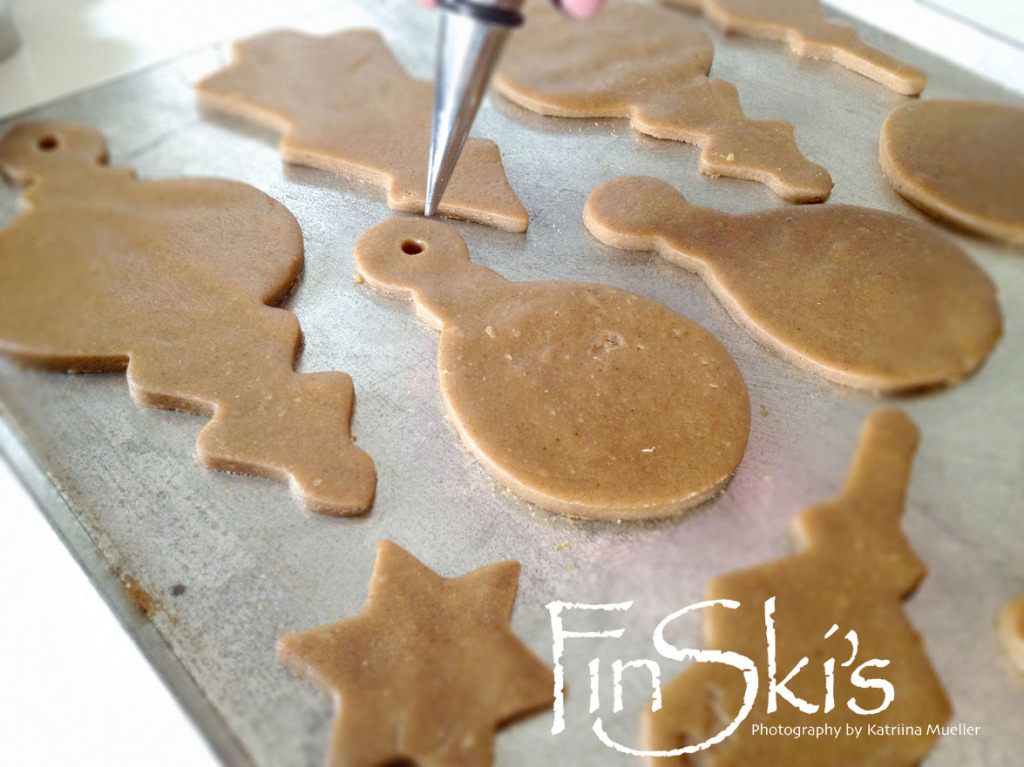 Remove from the baking trays and leave to cool before decorating … if you chose to.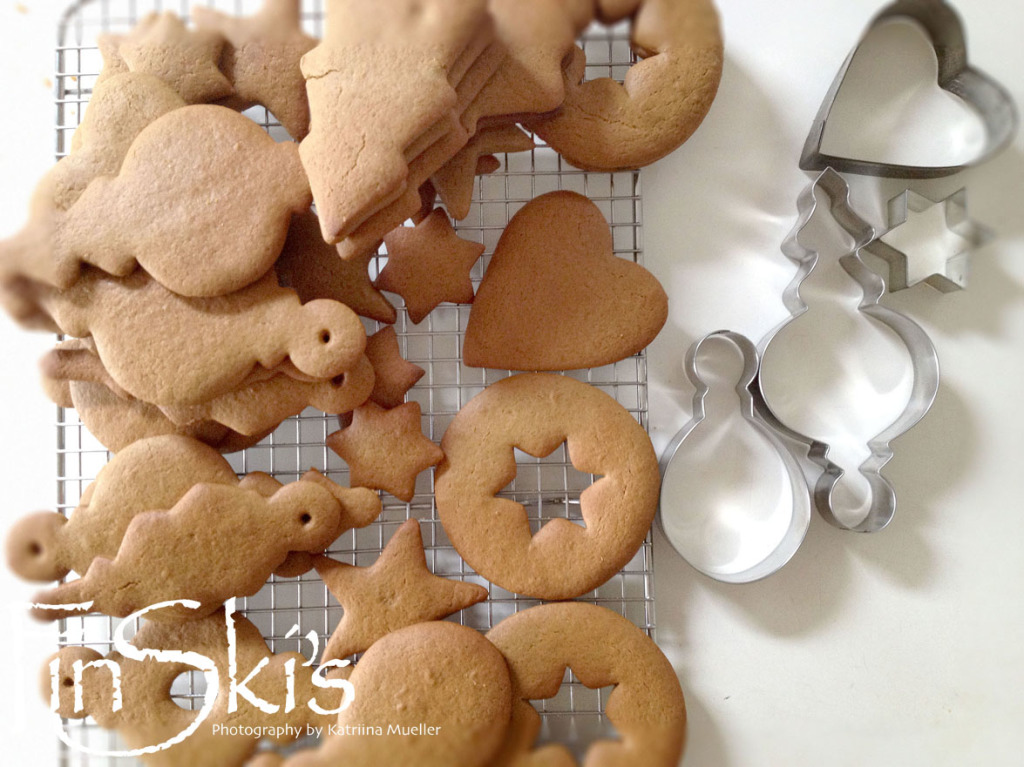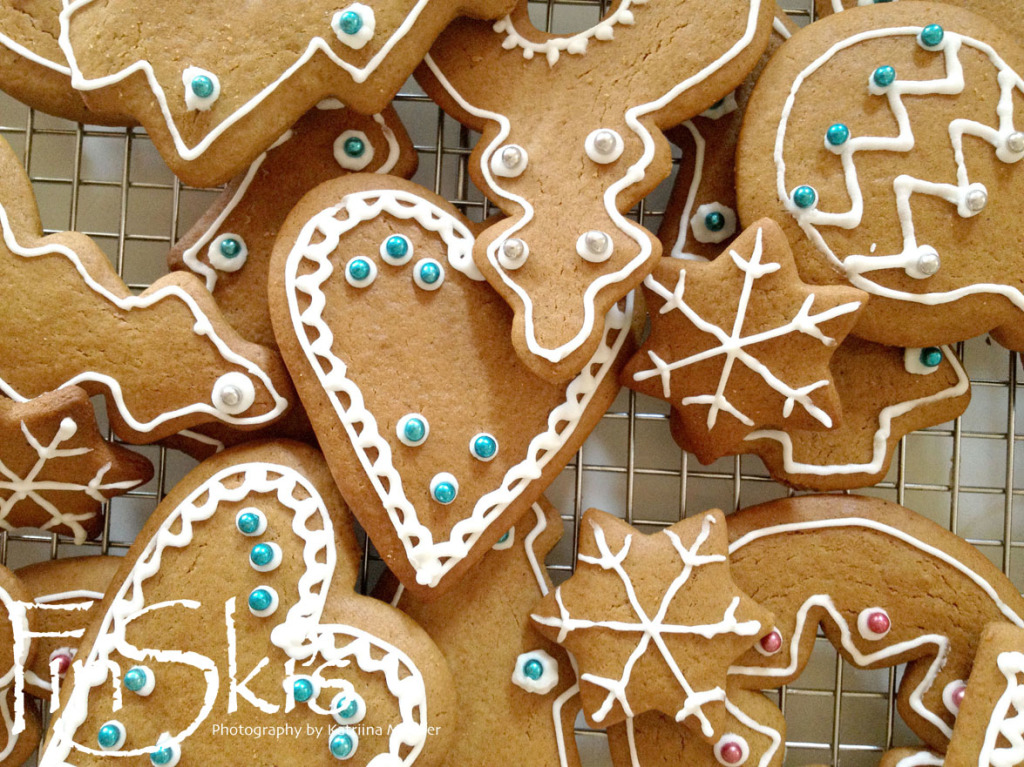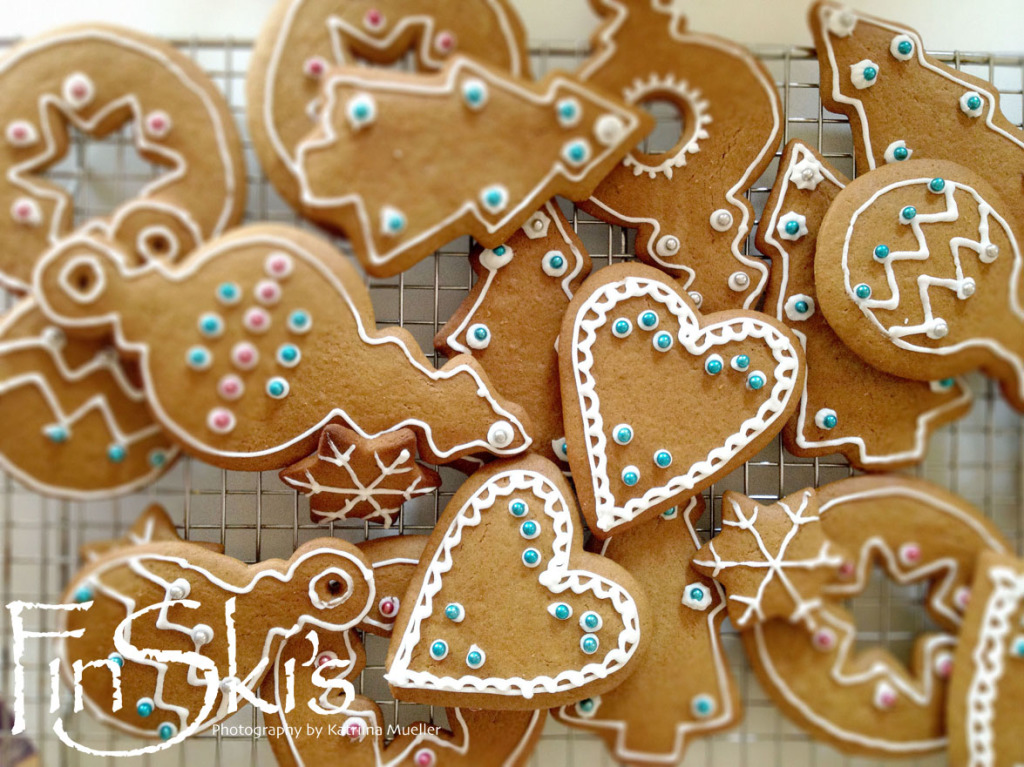 These ones were given to my son's class as a Christmas gift so they were placed into mini cellophane bags.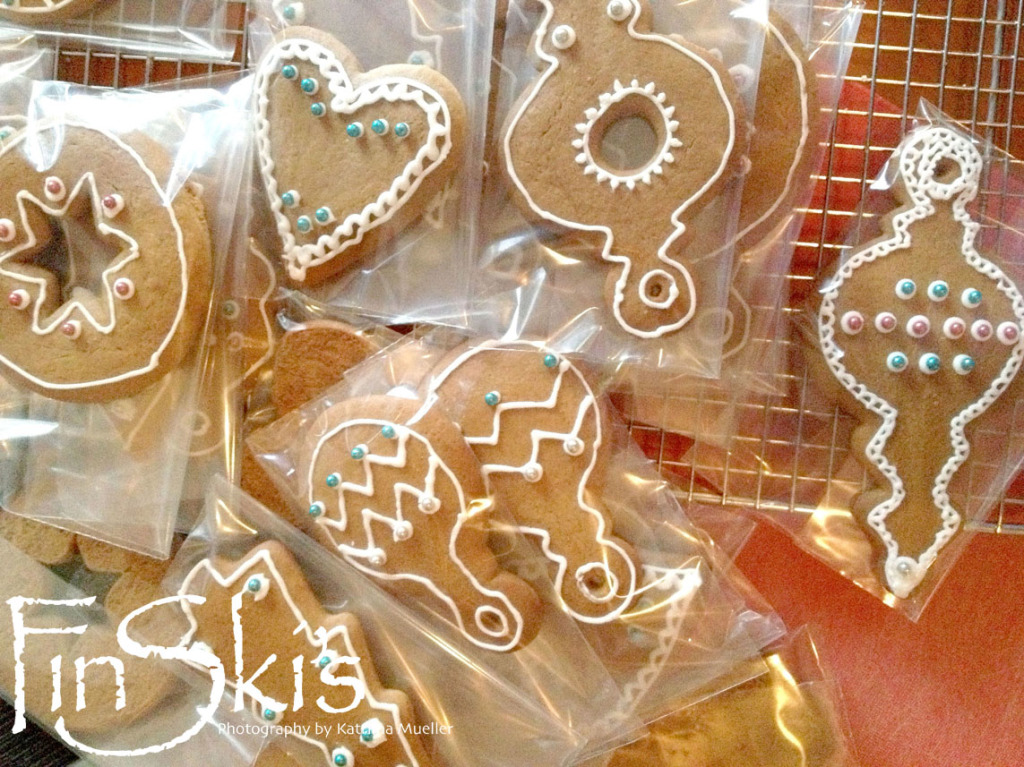 The traditional way the finns have their cookies – straight up!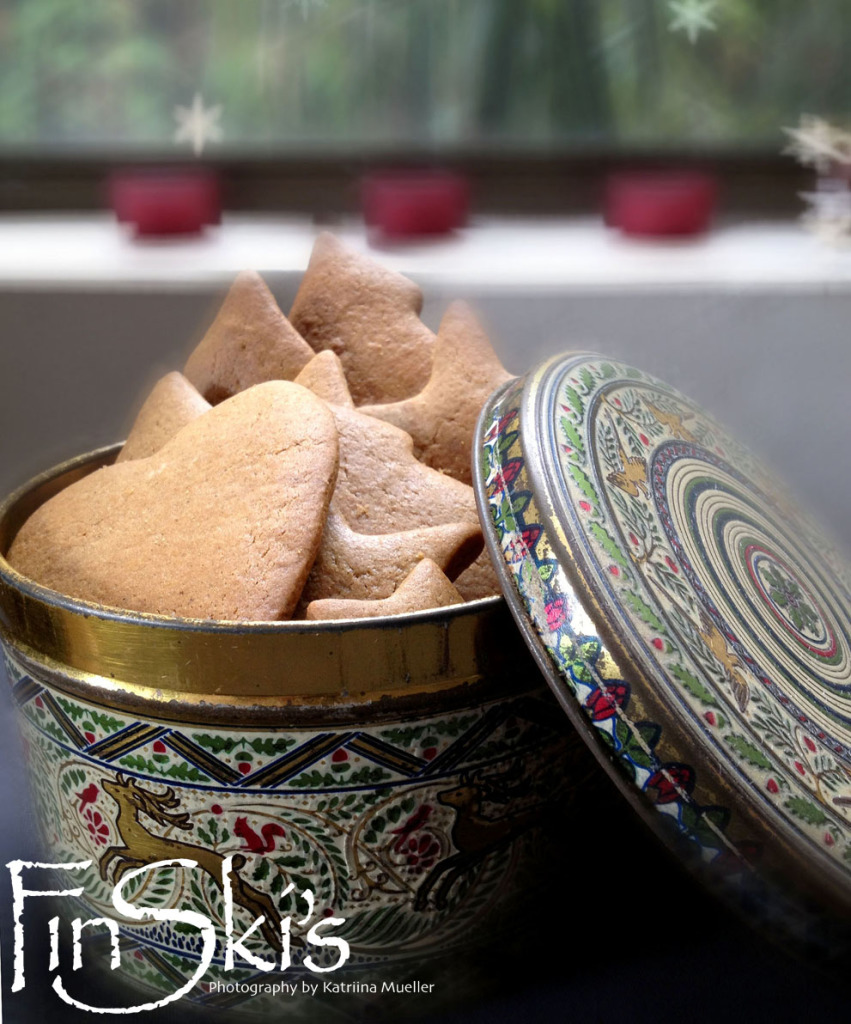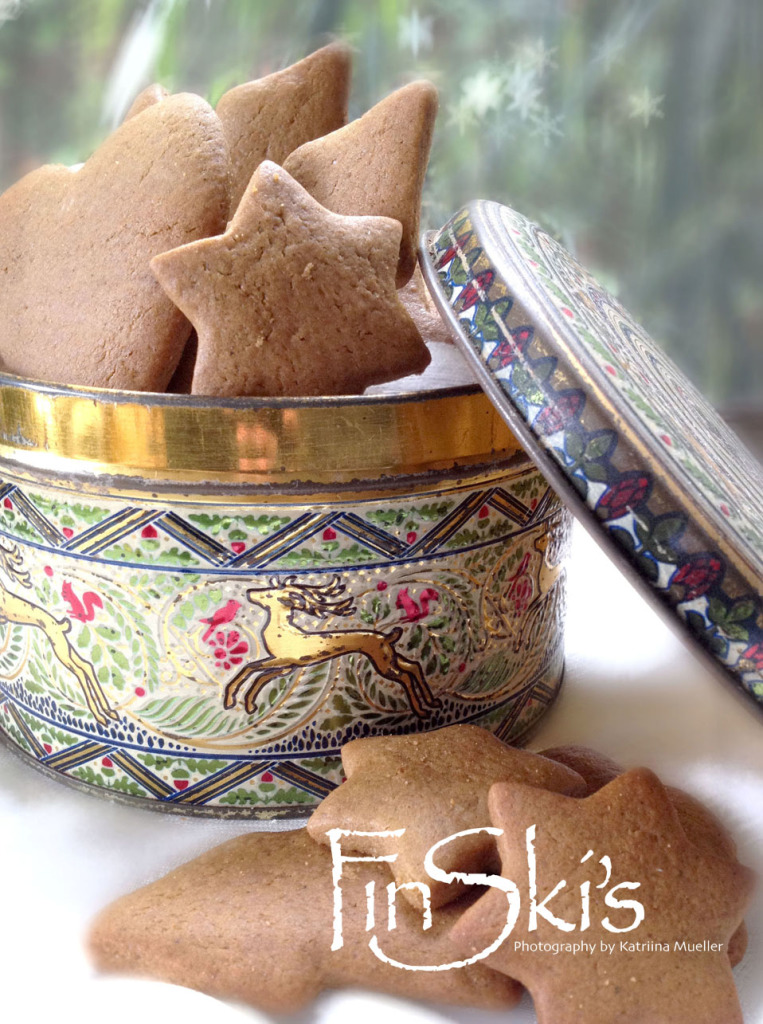 Posted 2nd Dec 2014
If I were to choose one thing that is significantly Christmas to me, and for most Finns I would assume, it would have to be the mounds of gingerbread biscuits that come out at this time of year.
My Nana has always been the one to stock the family with these delicious, spice laden, thin crispy biscuits. She would have tins of them, and knowing how much my sister and I loved them, would keep a continual stock of them throughout the year that we would have with tea along with other lovely sweets.
I recently acquired a Finnish cookbook published in 1966, Kotiruoka by Uusi Laitos (translates to Home Cooking or something very similar) This is Nana's and has been well thumbed through. It has nine different recipes for gingerbread cookies… NINE!
The Finnish/Nordic way is to have them neat, no fancy icing decorations and the shapes are simple hearts, stars and a scalloped circle… although I have, in the last several years, started a little tradition with my son and we now decorate large cookies cut from my gorgeous Donna Hay Christmas Bauble Cookie Cutters. The large size means the cookies can be intricately decorated and look stunning (my son channels Jackson Pollock when decorating these)
This amount makes about 50 cookies depending on the size of your cutters, but believe me they will disappear, and very quickly! Going with the FinSki's theme for edible gift ideas, package them up in little bags or old biscuit tins and give them as gift.
Hyvaa joulua! Blondie
(Visited 362 times, 2 visits today)