Bella and I both love to head to the bargain corner of the grocers hoping to get a great big stash of vegetables or fruit to make into a sauce, jam or some other condiment that takes our fancy. They are generally still firm and beautiful but get relegated to the back of the store after a week or so and sold off cheaply. Tomatoes, capsicum, passion fruits, leeks, cauliflower etc, it's the grocery shop forage – you don't now what you will get, if anything, but it's the thrill of the hunt in the city.
So after a successful gathering session I came home with 10 big capsicums. I knew that I wanted something zingy and spicy with a big hit of heat, so I started looking through recipes online for the one that was going to be the perfect fit. A Roasted Red Pepper Sauce popped up and I knew straight away that this was the one. It's from Bobby Flay's Mesa Cookbook (this one will most definitely be added to my collection) and it's just a stunning sauce! Bobby Flay apparently describes this sauce the 'work horse' of his restaurants, and I can see why as I have now used it to marinade chicken, eaten it as a dip and have basted fish on the BBQ with it!
Ingredients
3 red capsicums, skin removed
3 cloves garlic, roasted
1 tbs chipotle in adobo sauce
1 red onion
1 tbs wholegrain mustard
1/2 c olive oil
Method
Roast a bulb of garlic in the oven by slicing off just a little off the top to expose the garlic and drizzling with some oil. Roast at 180°C for 25-35 minutes or till golden and soft. Leave to cool and then take 3 cloves. The rest can be frozen to be used at another time.
To remove the skins from the capsicums, place them on an open flame and char, turning regularly. Place the burnt capsicums in to a plastic bag, close and leave to sweat for 10 minutes. Now you can gently rub the skin off while they are still in the bag.
Make the chipotle in adobo sauce by pouring in the can of whole peppers and sauce into a food processor and blitzing till smooth. Keep the remainder in the fridge for up to a week or freeze in a zip lock bag, flatten and then you can break off pieces as you need it.
Throw all ingredients into the food processor and blitz till smooth…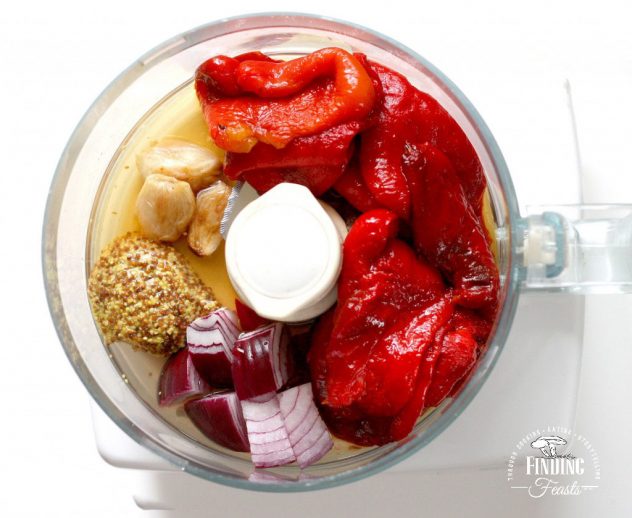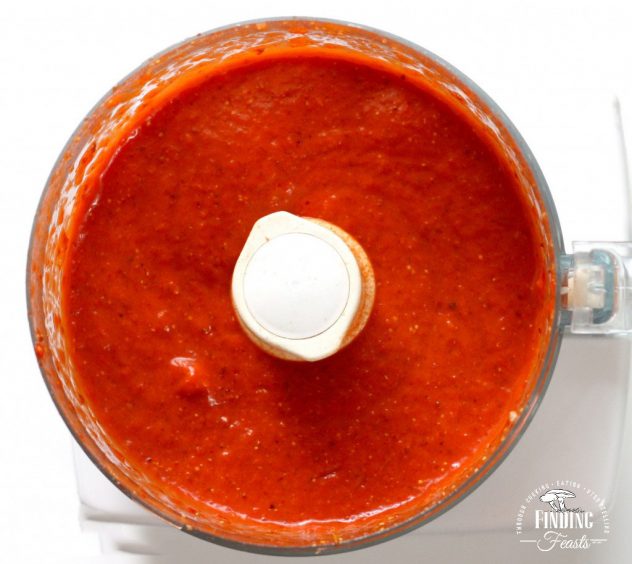 Place in sterilised jars and refrigerate.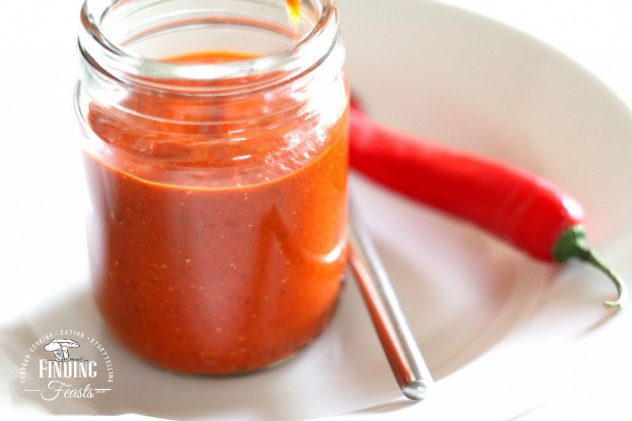 This amazing sauce can be used with any Mexican style dish. It adds depth of flavour and heat.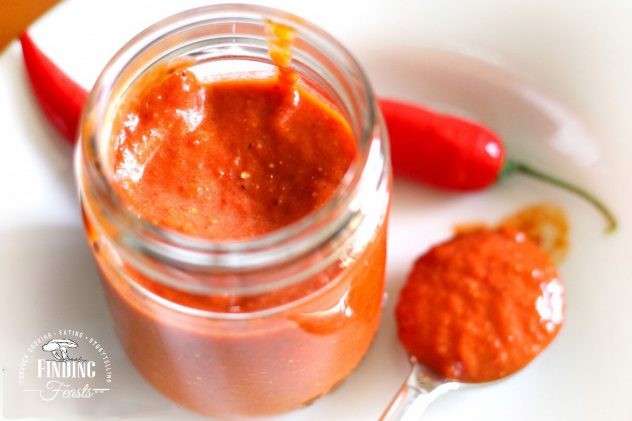 Red Pepper (Capsicum) Sauce
Recipe type:
Sauces and Pastes
Prep time:
Cook time:
Total time:
An amazing all rounder sauce that can be used on chicken, fish and red meats.
Ingredients
3 red capsicums, skin removed
3 cloves garlic, roasted
1 tbs chipotle in adobe sauce
1 red onion
1 tbs wholegrain mustard
½ c olive oil
Instructions
Roast a bulb of garlic in the oven by slicing off just a little off the top to expose the garlic and drizzling with some oil. Roast at 180°C for 25-35 minutes or till golden and soft. Leave to cool and then take 3 cloves. The rest can be frozen to be used at another time.
To remove the skins from the capsicums, place them on an open flame and char, turning regularly. Place the burnt capsicums in to a plastic bag, close and leave to sweat for 10 minutes. Now you can gently rub the skin off while they are still in the bag.
Make the chipotle in adobe sauce by pouring in the can of whole peppers and sauce into a food processor and blitzing till smooth. Keep the remainder in the fridge for up to a week or freeze in a zip lock bag, flatten and then you can break off pieces as you need it.
Throw all ingredients into the food processor and blitz till smooth…
(Visited 704 times, 13 visits today)