Ingredients
2 celery stalks, roughly chopped
2 carrots, roughly chopped
2 onions, quartered with skins on
5 each bay and sage leaves
4 rosemary sprigs
2 star anise
2 bacon rashers, roughly chopped
8 chicken wings or other chicken pieces
2 tbs olive oil
1/3 cup sherry or port (optional)
1 tbs cranberry sauce
Method
Preheat your oven to 200°C.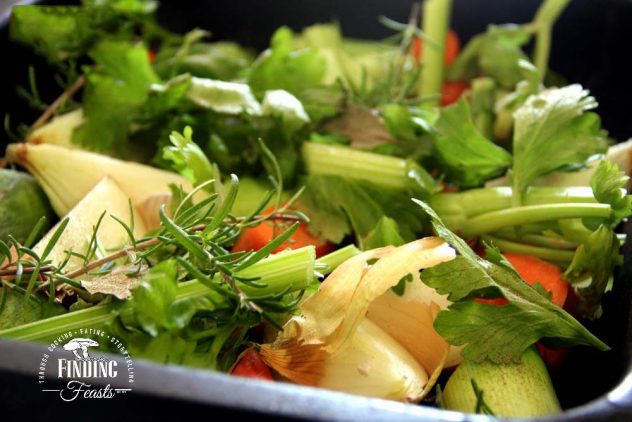 Place your veggies, star anise and herbs in a large roasting tray. I also had some left over leek pieces so these were added in as well.
Bash your chicken pieces with a rolling pin or meat tenderiser, this will enhance the flavour of the stock as it cooks.
Add chicken pieces to the roasting tray and scatter with chopped bacon. Season with salt and pepper and toss in olive oil.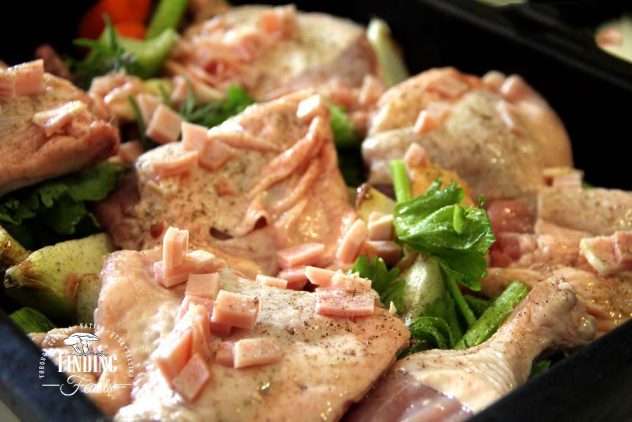 Bake in the over for approximately an hour or until the meat is falling off the bone.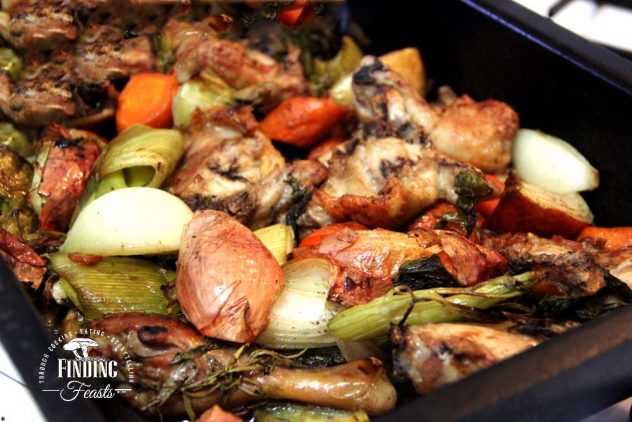 Take the roasting tray out of the oven, place it over low heat on your stove. Use a potato masher to mash everything up in the pan. Ensure you scrape the bottom of the pan, that's where all the yummy flavour is! The longer you let everything fry up the darker your gravy sauce will be.
Gradually add your flour to thicken up the sauce. When you have incorporated the flour into the mixture add about 2 litres of hot water.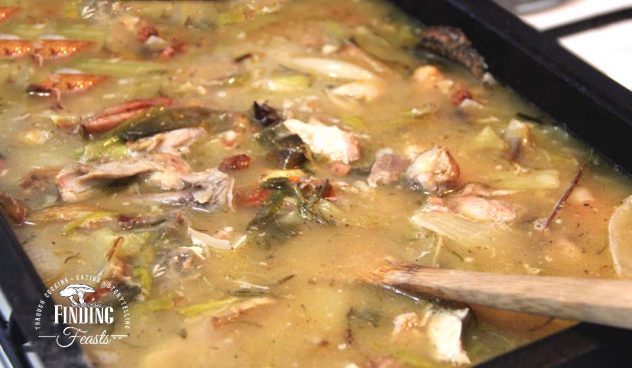 Bring your mixture to a boil and reduce the heat to a gentle simmer. Let it cook for approximately 25 minutes. Add port of sherry (optional).
After 25 minutes check your seasoning and strain the mixture through a sieve.
Pour your gravy sauce into container, label and freeze away! Too easy!

Christmas Day
Take your gravy out of the freezer when your turkey is roasting. Let it come to room temperature.
Once your turkey is cooked lift it out of the roasting pan, set aside to rest. According to Jamie, your turkey should rest for 1/2 its cooking time. Discard most of the fat from the baking tray, leaving about 1 and 1/2 table spoons of fat in the roasting pan, add your defrosted gravy sauce and bring to the boil.
Strain the sauce through a sieve.
Add the cranberry sauce to give it a nice little kick.
Leave your gravy bubbling away on low heat until you need to serve it up with your turkey.
(Visited 183 times, 1 visits today)