I know alot of people find it difficult to cook a perfect fried egg so my tip for making perfectly cooked eggs, that is, a nice firm egg white and a runny yolk, is to cook on a low flame and cover with a lid. You can peek inside every now and then to check on the eggs but be sure not to let out too much heat while you do so. You also don't need oil if your pan is well seasoned or non stick, the oil in this recipe is really for the mustard seeds and mushrooms.
Ingredients
4 shiitake mushrooms, sliced
baby spinach, large handful
1 spring onion, thinly sliced
2 tsp brown mustard seeds
1 tsp aleppo pepper (red chilli flakes if unavailable)
2 tsp oil
4 eggs
Serve with toast and avocado
Method
Heat the oil in a pan and then add the mustard seeds. Cook till the seeds start popping.
Add the mushrooms and spring onions, cooking till brown
Throw in the spinach and turn down the heat to low.
Divide the spinach and mushroom mixture into four sections and then break an egg into the vacant sections.
Sprinkle on the aleppo pepper and then cover and cook for about 4 mins or till the yolk is cooked to your desired doneness.
Serve over avocado topped toast and season with salt and pepper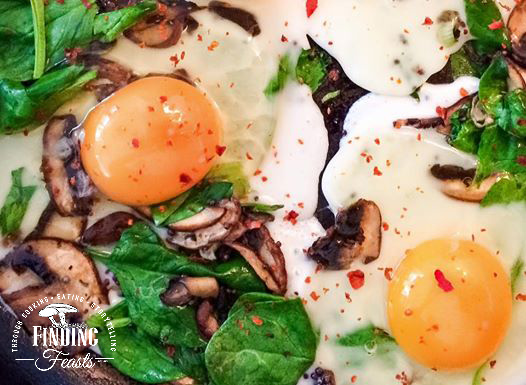 Eggs w/ Spinach, Mushrooms - Brunchtime Recipe
Prep time:
Cook time:
Total time:
You will be able to get through the day with a belly full of delicious food... Makes a simple and tasty dinner too.
Ingredients
4 shiitake mushrooms, sliced
baby spinach, large handful
1 spring onion, thinly sliced
2 tsp brown mustard seeds
1 tsp aleppo pepper (red chilli flakes if unavailable)
2 tsp oil
4 eggs
Serve with toast and avocado
Instructions
Heat the oil in a pan and then add the mustard seeds. Cook till the seeds start popping.
Add the mushrooms and spring onions, cooking till brown
Throw in the spinach and turn down the heat to low.
Divide the spinach and mushroom mixture into four sections and then break an egg into the vacant sections.
Sprinkle on the aleppo pepper and then cover and cook for about 4 mins or till the yolk is cooked to your desired doneness.
Serve over avocado topped toast and season with salt and pepper
(Visited 50 times, 1 visits today)