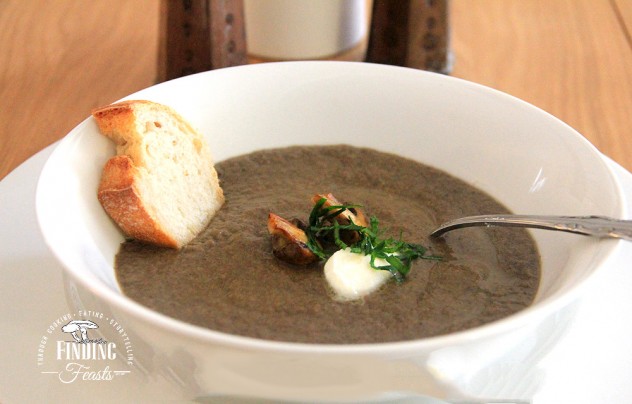 Warm up this winter with a beautiful wild mushroom soup!
With winter finally arriving in Sydney (although obviously not today as it is going to be 25 degrees!) I decided to celebrate the cold July by throwing a Christmas in July dinner party. Menu planning had begun many weeks ago! Books were gone gone through, magazines pulled, lists made up, list torn up only to be made up again. This was no ordinary dinner, I wanted to show case skill, technique and obviously good hearty dishes. A three course feast was settled on, consisting of entree and main prepared by me and dessert by Blondie.
The menu consisted of…
Entree
Wild Mushroom Soup
Main
Sous vide Chicken, Wilted Greens, Verjuice Butter Sauce
Dessert
Yoghurt Panna Cotta, Poached Pear & Quince, Pecan Crumb & Frozen Chocolate Wind
Being Polish I'm no stranger to soups, they were and still are a daily staple and on the menu at mums place so when it came to the entree for our Christmas in July dinner, Wild mushroom soup was a no brainer decision.

Mum make what I would say one of the most amazing wild mushrooms soups from a recipe that was handed down to her my my fathers mother, my Babcia and whilst its pretty amazing for this dinner I wanted to try something a little more hearty, full of body.
Pen and paper in hand I jumped onto the trusty internet and the research had begun. I must have looked at hundreds of mushroom soup recipes and they all looked very similar to each other until I came across Jamie Oliver's The Real Mushroom Soup recipe. It looked earthy and full of flavour.
Decision made!
I of course didn't follow the recipe too the tee, and used my private stash of FinSki's Saffron Milk Cap and Slipper Jack mushrooms.
I had some tough critics to please that night…the husbands, but the finger licked bowls spoke for themselves.
Will I be making this again…a definite YES!
Bella 🙂
(Visited 56 times, 1 visits today)