Food: Eating for a day at Disneyland
Trying to eat a healthy breakfast before heading out for a long day at Disneyland was a little difficult. It was very surprising just how incredibly sweet everything was. I was warned about the sweetness of bread in particular but really didn't expect it to be so prevalent. Even the 'healthy' wholegrain bread was loaded with sugar or more appropriately, high fructose corn syrup or a fructose syrup of some kind was added. The first taste sense that hits your tongue is sweetness, like a brioche. Raisin Bran – equivalent to Australia's Sultana Bran (or so we thought) was covered in sugar. Each little raisin was coated in white powdered sugar as were the bran flakes, very odd when you consider the raisins are there for the sweetness. The fruit juice was like cordial, but the bacon and eggs were fantastic!
I cannot stress enough how important having a healthy, protein filled breakfast is when taking on a day at Disneyland. Don't be scared of making a big breakfast of bacon and eggs, throw in some spinach and mushrooms, swish it down with a glass of juice and a tea, really, you will thank me!
We did do a day with just toast and vegemite (Vegemite purchased before we left Australia) but we were all hungry within a couple of hours – you don't want 'hangry' (hungry angry) people at Disneyland.
Unless you opt for a sit down meal at one of the restaurants, food inside Disneyland pretty much consists of your usual fairground style food… Here's some of the treats available.
Corn dogs – $6.95USD ($9.75ish AUD)
Comes with a side choice of Lay's Potato Chips or sliced apple. You need to do it once.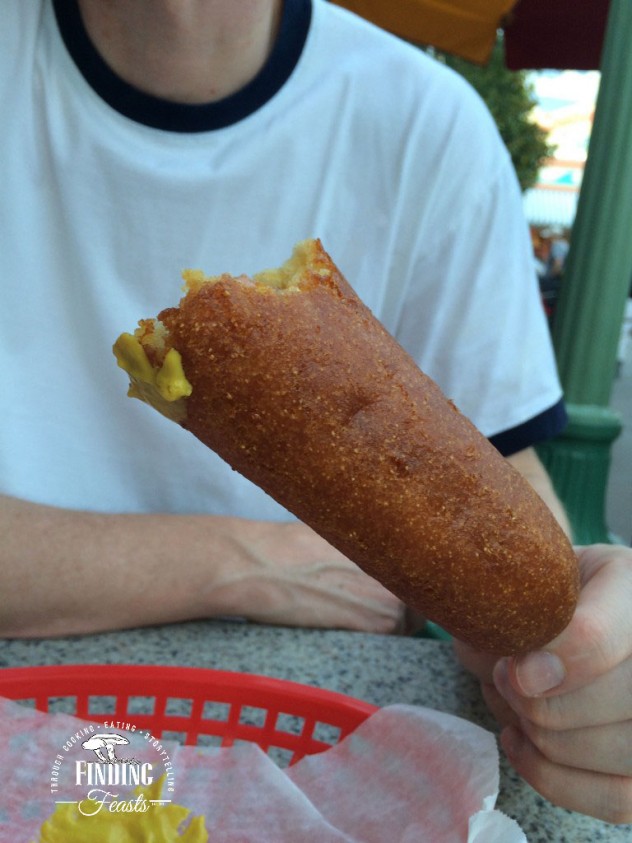 Churro's – $4.00USD ($5.60ish AUD)
These are seriously good and incredibly addictive. With a crispy outside coated in lots of cinnamon sugar and a soft, warm centre, it will take all your will power not to buy one whenever you pass a Churros cart at Disneyland or Disney Adventure Park. At about 30cm long you do feel you are getting your money's worth.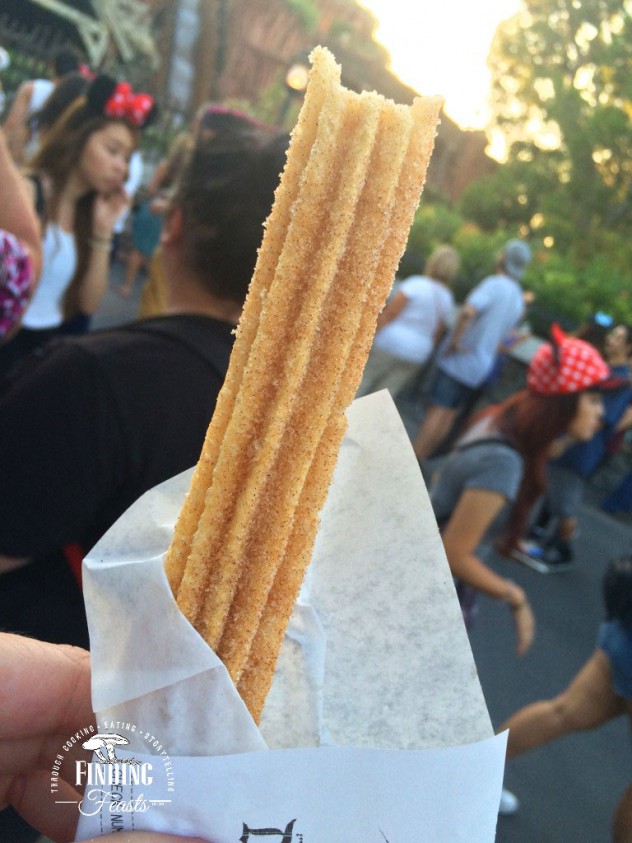 Chilled Pickles – $3.49USD ($4.90ish AUD)
Never got a chance to try one although I was very interested in the idea. These are available next to the Jungle Cruise attraction in Adventureland, Disneyland Park.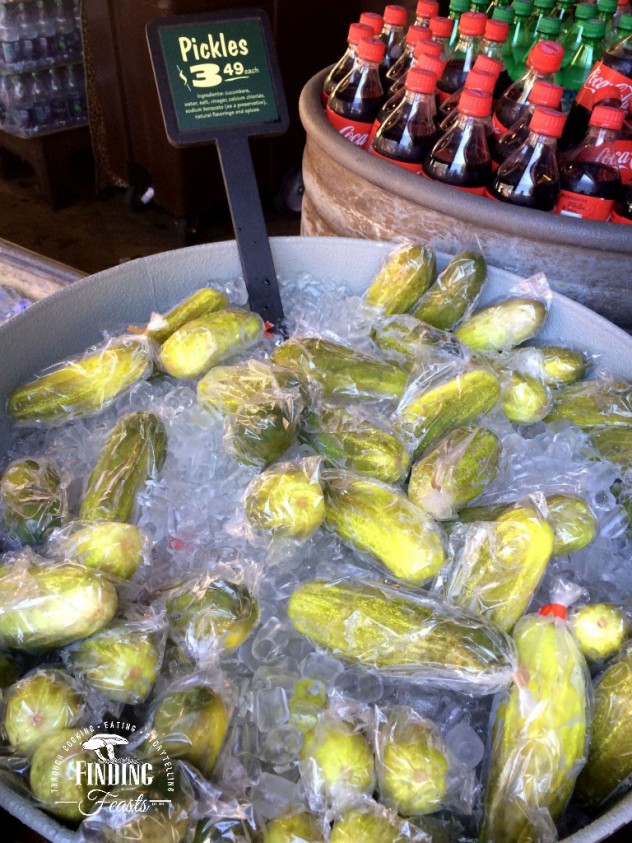 Olaf Lemonade & Strawberry Ice Cream Bar – $4.50USD ($6.30ish AUD)
These were heaven sent! It was a hot and muggy 40°c / 104°f the day we did Disneyland Adventure Park. The ground was so hot the soles of my feet got burnt through my sneakers.
We had pulled up for some shade and sneaky air conditioning from the large merchandise shop opposite the Grizzly Peak ride while we waited for the ride to re-open after some mechanical issues. That's when I saw the frozen treats cart.
These Olaf (yes from Frozen) Lemonade and Strawberry Bars may seem expensive, and on any other day they probably would have been, but today they were our saviour. They are very large and very thick – larger and thicker than any other icy-pole I have had before. They also had a perfect tartness to sweetness ratio… the first three ingredients on the nutrient info panel are water, lemons and strawberries, possibly one of the healthiest items available at Disneyland.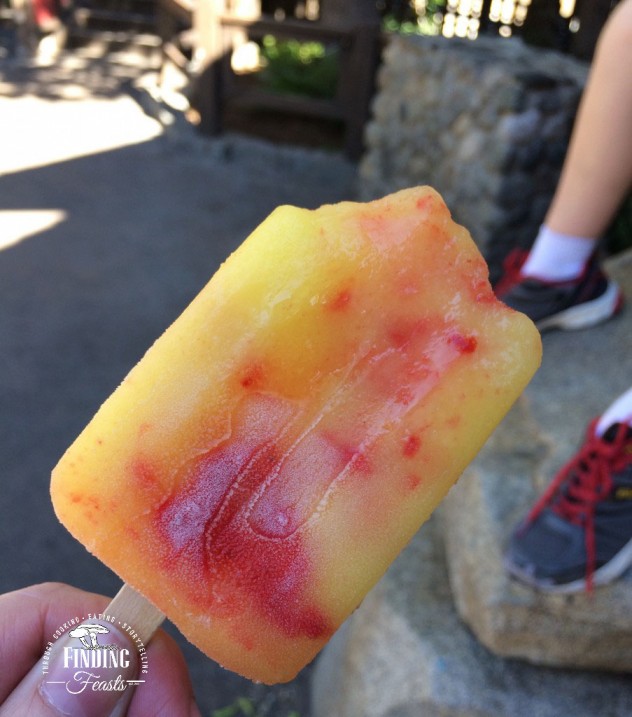 Pretzel Bites w/ Cheese Sauce – $4.99USD ($7.00ish AUD)
Remember when I was talking about the importance of having a big, protein rich breakfast before you head out for your day at Disneyland? Well, this is the day when we didn't have one so I was starving by mid afternoon.
I couldn't decide on what to eat. I had dragged hubby and the kids around looking for a Jumbo Turkey Leg but then changed my mind once I saw them as the thought of eating so much meat was kind of off putting- they are HUGE (and we had lots more rides to go on!)
Then I took them to the Bengal Barbecue kiosk opposite the Indian Jones ride in Advetureland. The smokey aroma of barbecued meats wafts through the air like a cartoon smoke enchantress licking at your nose every time you are near there.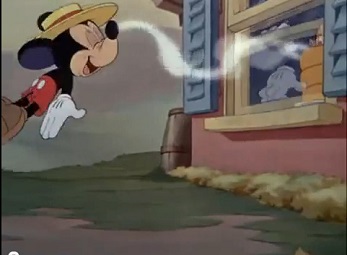 But, alas the food didn't look very appealing. The kebabs were pricey (one for $6.30ish AUD) very small and the meat was smothered in sauce. But all the reviews of the Bengal Barbecue are really quite good so if you get a chance then I'm sure it's worth it.
By now the wave of hunger has passed and we head over to Mickey's Toontown via the Disneyland Railroad. Upon exiting the train station we pass Troubadour Tavern. This kiosk has amongst it's menu bratwurst sausages, nachos and several sweets. I decided on the pretzel bites with cheese sauce… should have chosen the bratwurst. They are just salty bread balls with a tasteless bowl of yellow coloured calories. But, by now I was beyond hunger so nothing would have satisfied me. They might be good…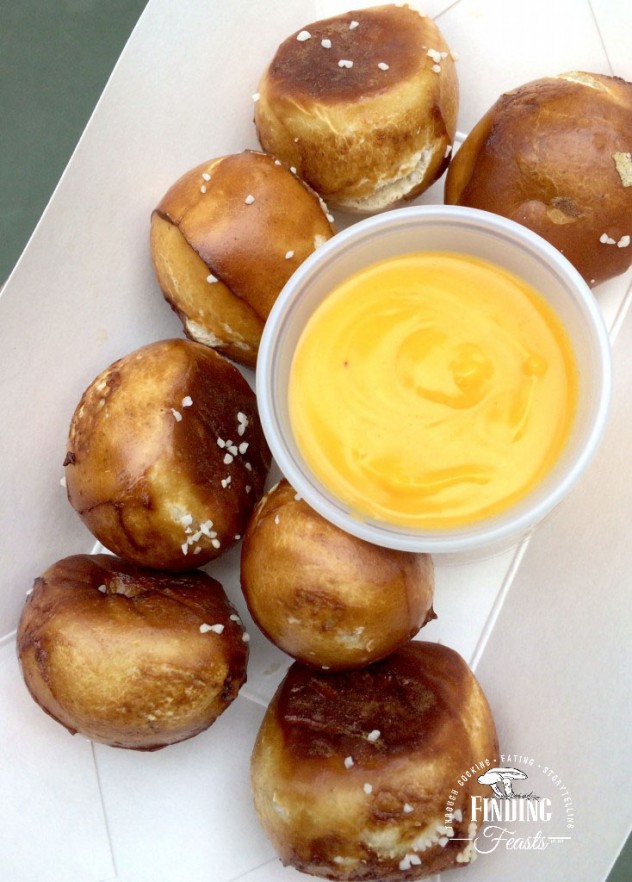 The tap water is perfectly safe to drink but I found it quite unpalatable, and I can put up with what most can't.
When in Disneyland, over estimate the amount of water you will be drinking while in the parks during summer as water costs $4.30AUD minimum to $7.50AUD maximum per bottle. If the weather is mid to late 30's°c/100's°f or topping off at 40°c/104°f like it was one day, then you are going to go through bottles and bottles of it and this will definitely eat into your budget.
We did refill some bottles but the water from the sparsely strewn bubblers was far too warm to drink as were the taps in the bathrooms. You are a slave to their water control once inside, which I feel is really not acceptable considering the cost for the exact same bottle of $4.30AUD water outside is .99¢US or cheaper when buying in bulk at the supermarket. Food and merchandise, fine, but water should be easily available to everyone at a reasonable price.
Outside of Disneyland, being in Anaheim there are lots of Tex-Mex restaurants and Italian style restaurants to keep you interested if you are eating out.
There are some great supermarkets though. This is where you see massive bags and block of American cheese and cheese blends that you cannot get here in Australia (I was very excited and my mind was madly trying to work out how to send them back to Australia!) Just look at the size of the cheeses!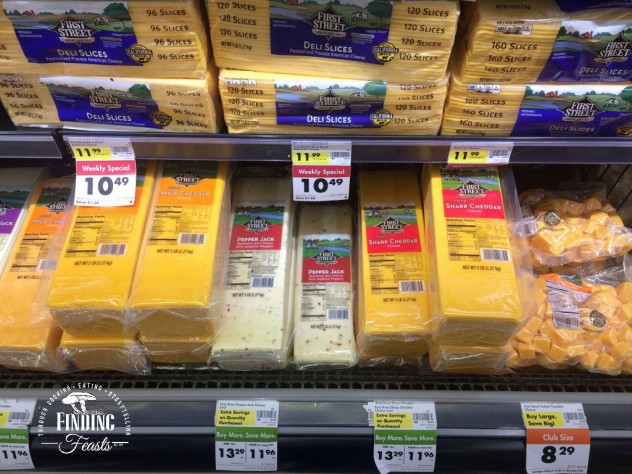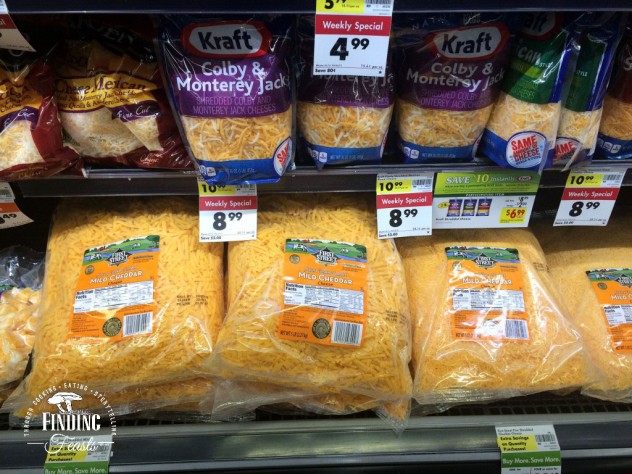 Budget tip: The food at Disneyland is exactly as you would expect it to be but that doesn't mean you can't indulge, just budget a minimum of $30-$40 AUD per person per day for cart/sidewalk food and water. This will get you a treat or two and some drinks.
If you are looking to do one of the theme restaurants then pre book a table as they fill up fast. Prepare to pay about $70 AUD and up per person.
If you are staying somewhere with a kitchen then make the most of it and make breakfast. Dinner will most probably end up being on the road or at a restaurant as the last thing you really want to do after a day on your feet is to cook up a feast.
Dinner prices for two adults and one 10 year old…
Olive Garden – $83.00 usd, $119.00ish aud  (2330 N Tustin St,
Orange, CA)
In-N-Out Burger – $16.00 usd, $23.00ish aud  (600 S Brookhurst St, Anaheim, CA)
Tacos y Mariscos Sinaloa – $19.50 usd, $28.00ish  (408 S Brookhurst St, Anaheim, CA)
(Visited 402 times, 1 visits today)