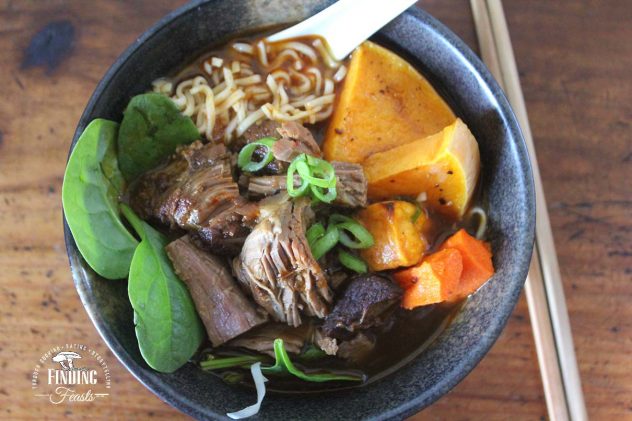 Spicy Cumin Lamb & Noodle Soup – Ever since Master S and myself came across Spicy Cumin Noodle Soup from Noodle Warriors in the new Hawkers Lane Chatswood, Sydney, I have been frantically trying to mimic the flavours. We fell head over heels in love with this soup; the best way to describe the flavour is as a taco flavoured soup. Amazing.
I've made so many versions of it to date and I think this one is the closest. It's super spicy with a magnificent cumin hit. The lamb is fall apart tender with the vegetables adding the sweetness that compliments the flavours of the cooking broth.
This soup is traditionally served with smashed noodles, which are handmade noodles torn into rough strips. They are quite thick and play an important part in this soup, so this will be next on the agenda.
I used a slow cooker but you can certainly make this in the oven, just keep it to about 100°c/210°f. The original soup is time absorbing but make sure you freeze the leftover cooking broth from the lamb and you will have an amazing soup flavour base to use in other soup dishes.
Happy slurping! Blondie 🙂
(Visited 36 times, 1 visits today)