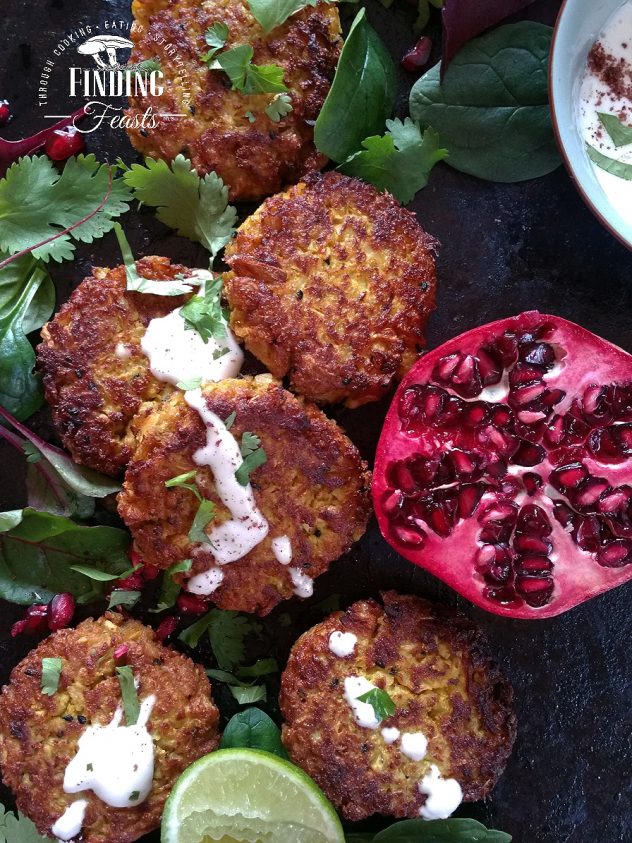 Roasted Curry Cauliflower Fritters w/ Sriracha Mayo & Pomegranate – Happy solstice! Summer for the northern hemisphere, winter for us in the southern hemisphere. It's the start of longer, warmer days. A celebration of making it to mid winter (although we are still waiting for winter here in Sydney).
So to celebrate the shortest day of the year, here is a fritter … sun like with it's vibrant yellow, seeds to represent rebirth, served with baby beetroot and spinach leaves.
A few points of note, I used vadouvan curry mix, which is a french inspired curry blend but you could use any other blend that you like. I also added nutritional yeast (just slightly addicted to this at the moment) but you could just omit this or use parmesan cheese as a substitute.
Lots of spices that complement the sweetness of the roasted cauliflower, matched with the hot, creamy mayo and sweet and sour bursts of the pomegranate seeds, these fritters make a wonderful addition to a mid winter celebration.
Happy new beginnings! Blondie
(Visited 25 times, 1 visits today)