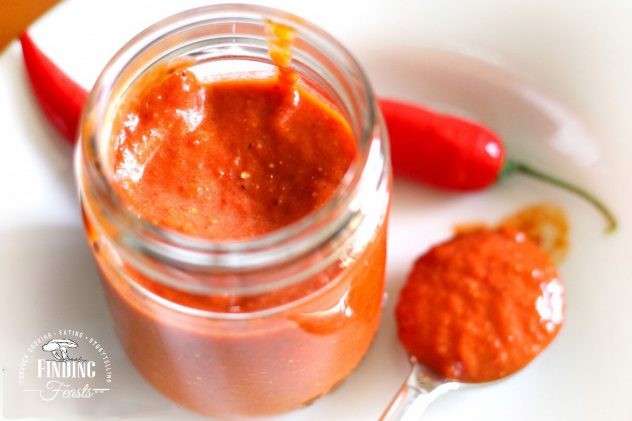 Red Pepper (Capsicum) Sauce… Bella and I both love to head to the bargain corner of the grocers hoping to get a great big stash of vegetables or fruit to make into a sauce, jam or some other condiment that takes our fancy. They are generally still firm and beautiful but get relegated to the back of the store after a week or so and sold off cheaply. Tomatoes, capsicum, passion fruits, leeks, cauliflower etc, it's the grocery shop forage – you don't now what you will get, if anything, but it's the thrill of the hunt in the city.
So after a successful gathering session I came home with 10 big capsicums. I knew that I wanted something zingy and spicy with a big hit of heat, so I started looking through recipes online for the one that was going to be the perfect fit. A Roasted Red Pepper Sauce popped up and I knew straight away that this was the one. It's from Bobby Flay's Mesa Cookbook (this one will most definitely be added to my collection) and it's just a stunning sauce! Bobby Flay apparently describes this sauce the 'work horse' of his restaurants, and I can see why as I have now used it to marinade chicken, eaten it as a dip and have basted fish on the BBQ with it!
Tonight I'm making Chicken Quesadilla's with it… or maybe Mexican pizza's?
Enjoy
Blondie
(Visited 499 times, 17 visits today)