Leek & Potato Soup w/ Onion Puree and Caramelised Onion Oil is heaven sent when you've got a cold.
As my boy is home sick from school with a cold today, I did the motherly thing and made some soup. Nothing is better than a piping hot bowl of soup to make you feel all warm and toasty on the inside.
This is my basic recipe for one of the food world's most enduring partnerships… leek and potatoes. It's also a fantastic canvas for experimenting with added flavours, which is why the onion puree has been introduced, which in turn produced an amazing by-product of the Caramelised Onion Oil that just had to be included in it.
Having come across a puree recipe from Chef Steps, I was eager to incorporate it into a dish and this was perfect. The Onion Puree is super simple to make, just bung some onions into a hot oven with some oil and salt and roast for 2 hours. The end result is incredibly sweet onions melting inside their skins. This gets pureed and voila, a tasty element to add to soups, risottos, aioli etc. But, what got me so excited was the leftover oily, caramelised, sweet and salty juices left in the baking dish – Oh my! You really have to make this for yourself.
Enjoy – Blondie

Ingredients
3 large onions – brown or white
3 tbs neutral flavoured olive oil
1 tsp salt
Up to a 1/4 cup extra of olive oil for pureeing
2 leeks, washed and chopped
2 cloves garlic, chopped
1 tbs clarified butter
4 potatoes, peeled and diced
4 cups of chicken or vegetable stock (I prefer chicken stock)
1 tsp sweet paprika
1 bay leaf
salt and white pepper to taste
1/4 c heavy cream
onion puree
onion oil – reserve some for dressing the soup at the end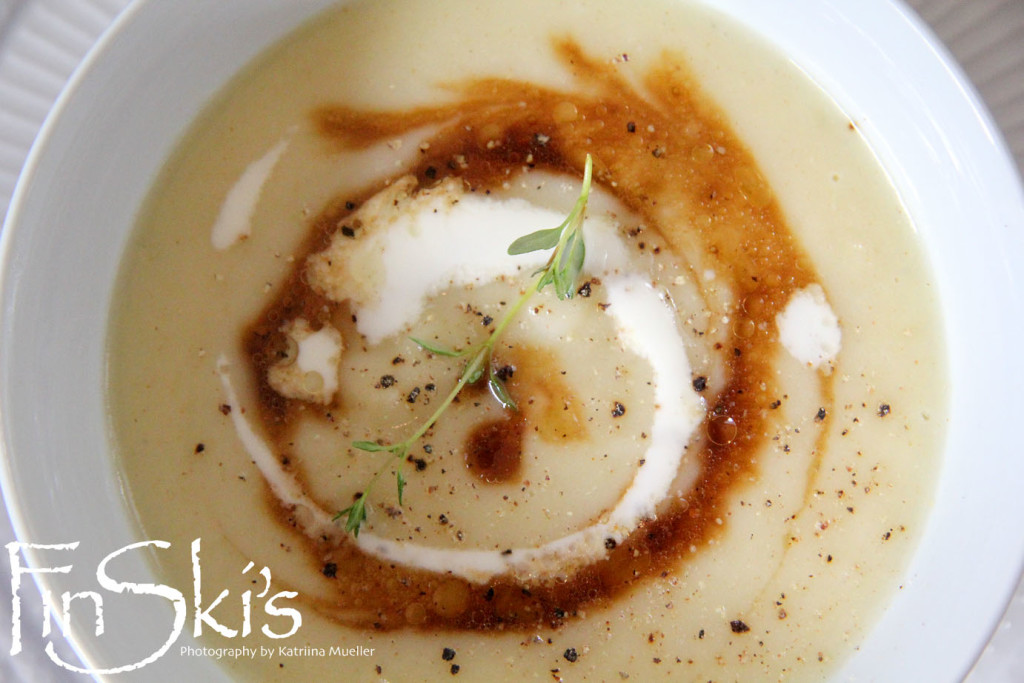 Method
Roasted onions
Pre heat oven to 200°C / 400°F
Place the onions in an oven-proof dish, drizzle with the oil and sprinkle on the salt.
Place, uncovered into the hot oven and cook for 2 hours. If the onions are getting too dark then just reduce the heat a little for the last half an hour.
Once cooked, remove from the oven and leave to cool enough to be handled.
Slice the onions in half and slip out the soft flesh. Puree with 2- 4 tablespoons of oil in a food processor or similar. Set aside.
Stir the oil and caramelised onion juice together and set aside.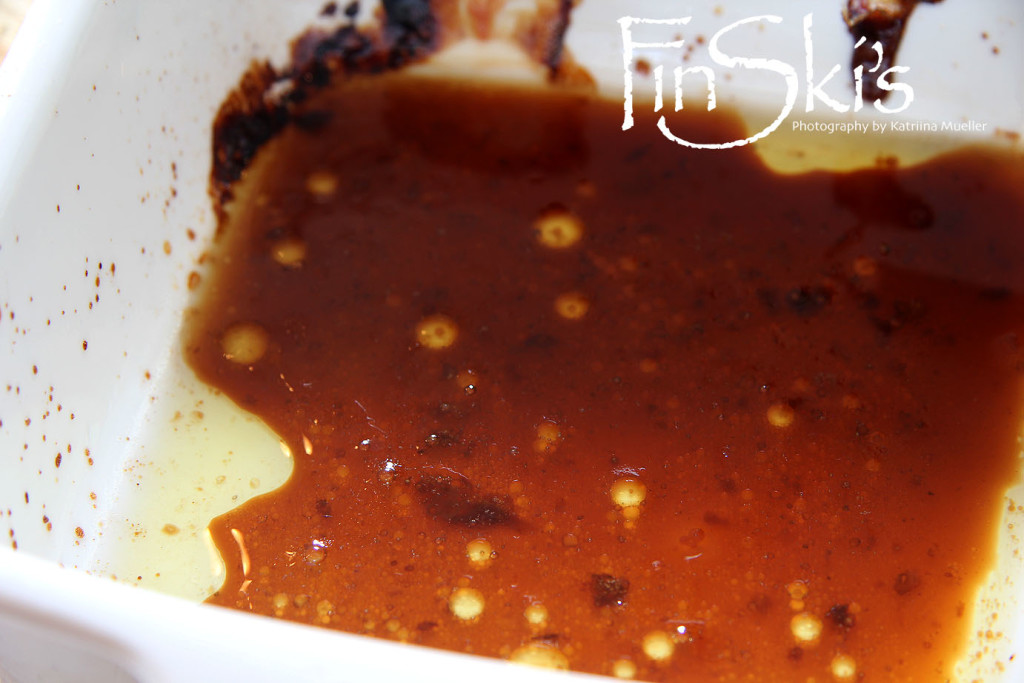 Soup
Slice the leeks length ways and rinse well under running water to remove dirt and grit. Roughly chop.
Melt clarified butter in a large saucepan and then add the chopped leeks. Cook for about 5 minutes or till softened.
Add the garlic and bay leaf and cook for a further 2 minutes.
Add the potatoes and pour in the stock. Bring to the boil and then reduce heat to a gentle simmer, cover with a lid and cook for about 20 minutes or till the potatoes are softened.
Leave to cool slightly and then use a stick blender to puree into a soup.
Add the onion puree and some of the onion oil to the soup and blitz again.
Add the cream and stir to combine.
Add 1/2 tsp of white pepper and 1 tsp of salt then taste to see if you need more.
Ladle soup into warmed bowls and then drizzle the onion oil in a circular motion. Run a teaspoon handle through the oil, which will make a pretty pattern then drizzle some thickened cream in the centre. Sprinkle with freshly ground pepper and a small branch of thyme.
Serve with some toasted turkish bread.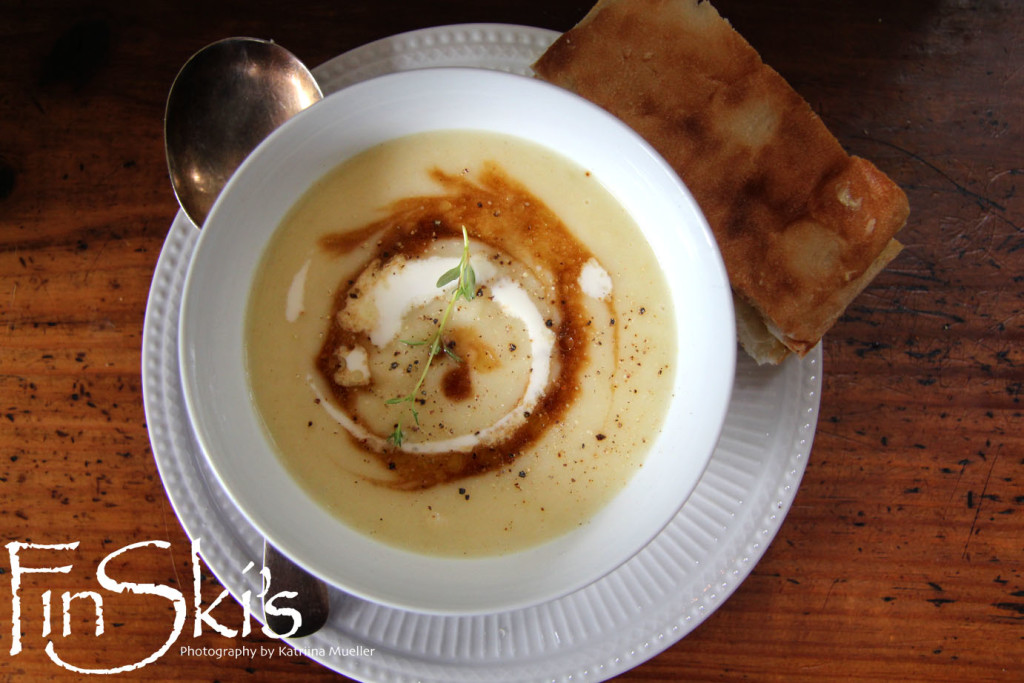 (Visited 289 times, 1 visits today)