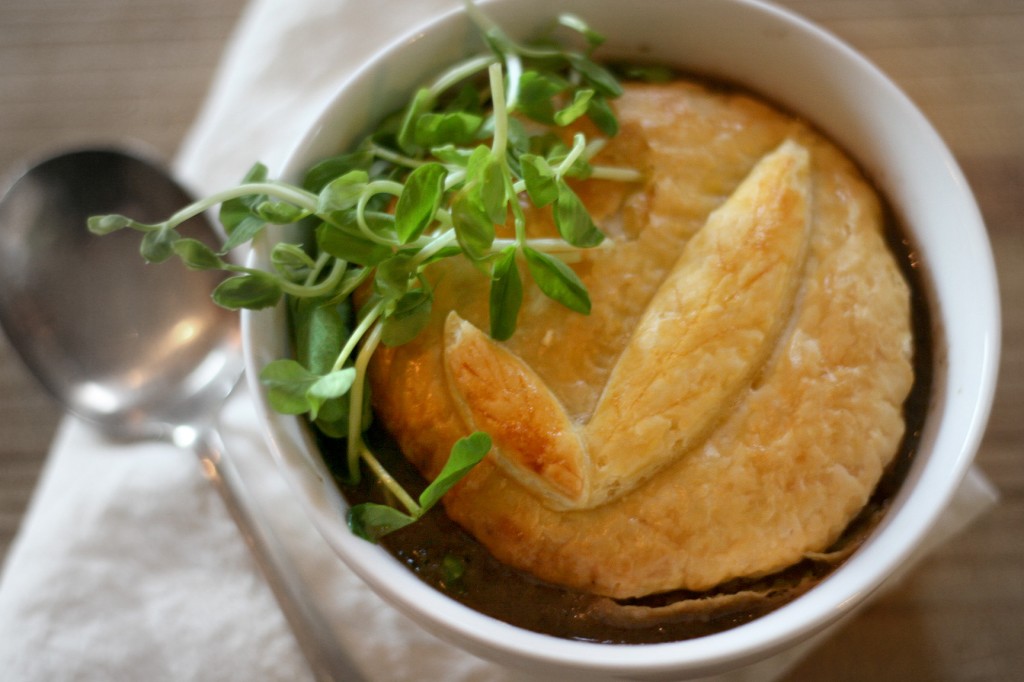 Note: This Braised Beef Cheek and Mushroom Pie can be cooked in either a pressure cooker for 40 minutes or for 2 hours on the stove.
Ingredients
1 onion, diced
1kg beef cheeks
300g mushrooms, use button, shittake, browns etc
200ml red wine
750ml beef stock, good quality if you don't make your own
4 bay leaves
1 tbs tomato sauce
1 tbs hot English mustard
1 tsp Worcestershire sauce
1 cup plain flour seasoned well with salt and pepper
oil – for browning the meat
butter – for cooking the mushrooms
Puff pastry sheets – the amount needed will depend on whether you are doing individual pies or one large one
1 egg, beaten
Ingredients
Pre heat oven to 190°C / 375°F
Decide how you want to serve your pies. Get the bowl and place it upside down on the pastry and cut around the rim. This is your lid. Brush the top with some egg wash and cook in the oven for about 15-20 minutes or till golden brown and puffed up. Set aside in a safe place.
Prepare the beef cheeks by removing the silver skin if it's still on and excess fat but that is all you need to do. Chop the cheeks into fairly large chunks… too small and it will disintegrate, too large and it will be difficult to get your mouth around.
Place the seasoned flour into a largish plastic bag and dredge the meat. Remove and shake of excess flour.
Heat some oil in a heavy based pot and brown the beef cheeks well in separate batches so as not to stew the meat. Place each batch into a bowl and leave aside.
Heat some more oil in the same pan as you cooked the beef cheeks and add the chopped onion. Cook on low to medium for about 10 minutes.
Add the red wine, beef stock, bay leaves, sauces and the mustard and bring to the boil.
Add the beef cheeks back to the pot and seal with a lid…
Pressure cooker: Cook for 40 minutes
Stove top: Cook for about 2 hours
Slice your mushrooms and fry them in a saucepan with a little butter till golden and set aside.
Once your beef is cooked and meltingly soft, check to see if you need to reduce the liquid. If so, remove the meat from the pot and bring the gravy to a high simmer and reduce as necessary. Season with salt and pepper.
Add the mushrooms to the gravy and carefully place the beef back into the pot.
Fill the bowl or bowls with the beef cheek mixture and top with your previously made pastry lids.
Place in the oven to reheat the lid and then serve.
Blondie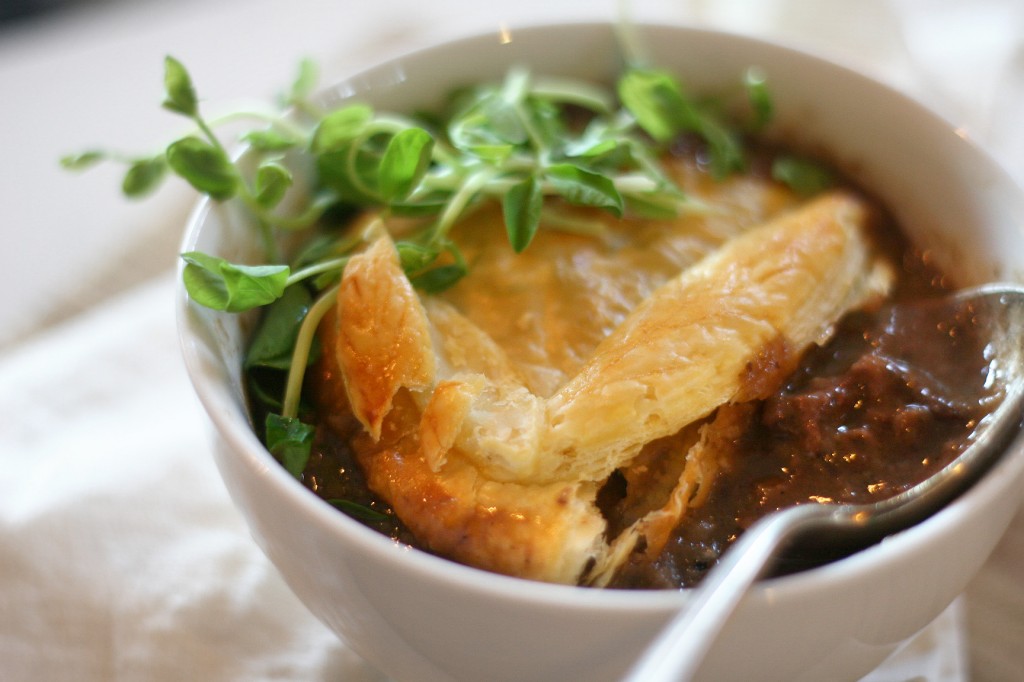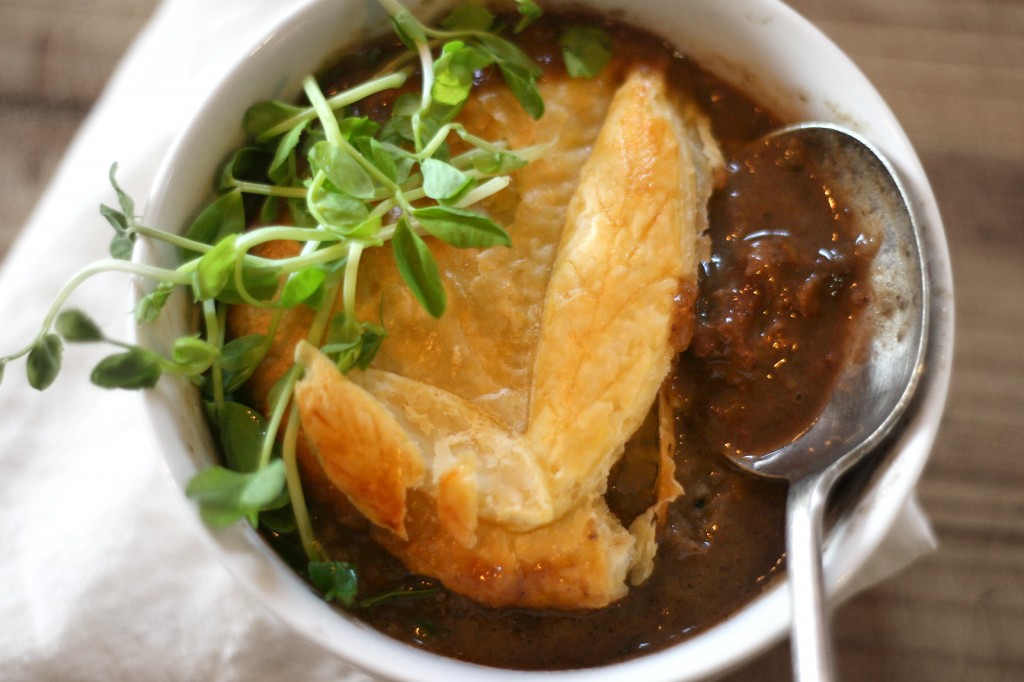 Original post… 29th July 2013
Well, with Frost Fest 2013 now done and dusted, I have to say that for Bella and myself, for our first restaurant service, we kicked ass! Rave reviews for our mushroom dishes from everyone who dined at the vineyard and now an eagerness to get ourselves out at the markets before Christmas… what a thrill it was, so a massive thank you to Jonathan, Jess and Valerie of Stockman's Ridge Wines for having faith in us to compliment their wines with our dishes… a much appreciated learning experience.
With that said, here is one of Saturday's sellout dishes, Individual Braised Beef Cheek and Mushroom Pies. The original pie recipe I had planned for was a Rabbit and Mushroom Pie, but with a complete lack of rabbits in Orange at that particular time I needed to change it. So after a discussion with the butcher I left with 2kg of beef cheeks and 7kg of chicken carcasses (for the rich chicken stock). With the luxurious texture of the beef cheek and silkiness of the gravy teamed with the mixed mushroom topping, it was sure to be hit! I was completely inspired by a recipe I came across at Grazing At Large's food blog, the changes are only due to substituting ingredients that I didn't have available, that and punching up the mushroom quota and intensity.
The beef cheeks were sourced through M&J Butchers in Orange, NSW and what a treat they were too. Already trimmed of fat and ready to go, and the flavour was outstanding!
The greatest thing about this dish is if you are having a group of people for a dinner party, the three different elements can be pre prepared and then assembled and reheated when needed. Serve with a walnut salad on the side with a mustard and balsamic dressing and you are sure to wow your guests with such a flavoursome dish.
Cheers and enjoy!
Blondie
(Visited 324 times, 1 visits today)