Ingredients
500g chuck steak
1 onion
3 garlic cloves
1 celery stick
1/4c passata
2 c beef stock
1 tsp worstershire sauce
salt and pepper to taste
150g mixed mushrooms – shitake, swiss brown, field
1 tbs cornflour
1 tbs water
Mashed potatoes
6 potatoes
2 tbs butter
1/4 c milk – more or less may be needed
1/2 c parmesan cheese
Salt and white pepper to taste
Method
serves 6
40 min cooking time for pressure cooker or 2 hours in 160° oven
30 minutes extra to finish the pie in the oven
Grab some 'happy' beef chuck steak, flavour wise and health wise it's worth incorporating into your meals.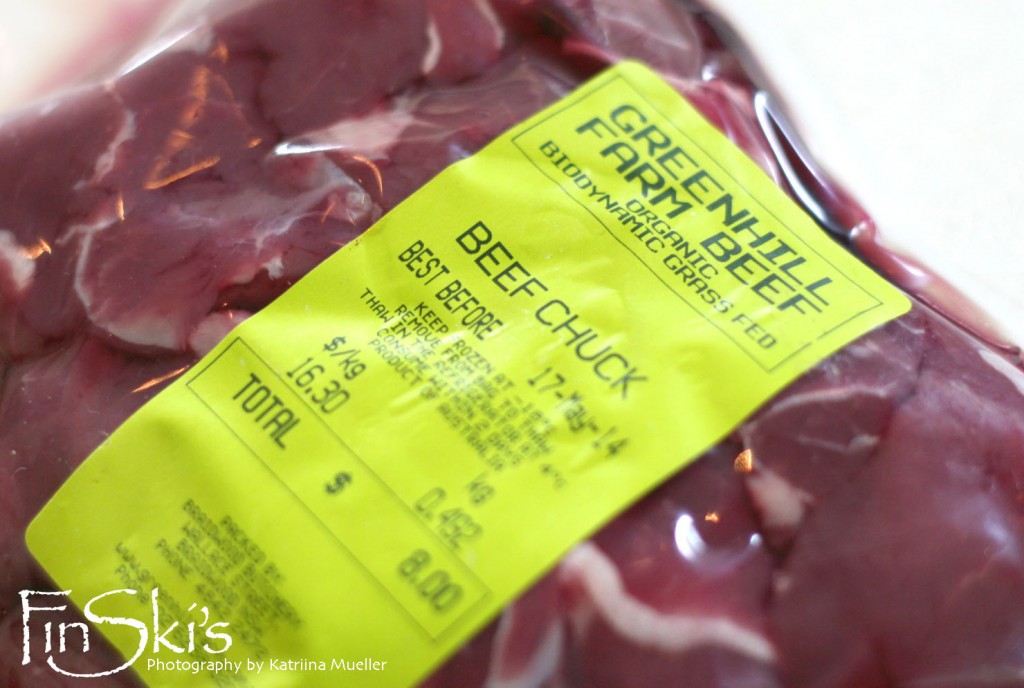 Heat some oil in a pan if you are going to cook this in the oven or just use your pressure cooker.
Brown the meat in batches and set aside.
Heat some more oil and gently cook the chopped onions for 10 mins, add the chopped celery and garlic and cook for a further 3 minutes.
Place the beef back into the pot and add the passata, beef stock and worstershire sauce.
Stir in the sliced mushrooms.
Place in a low 160° oven for 2 hours or cook in a pressure cooker for 40 minutes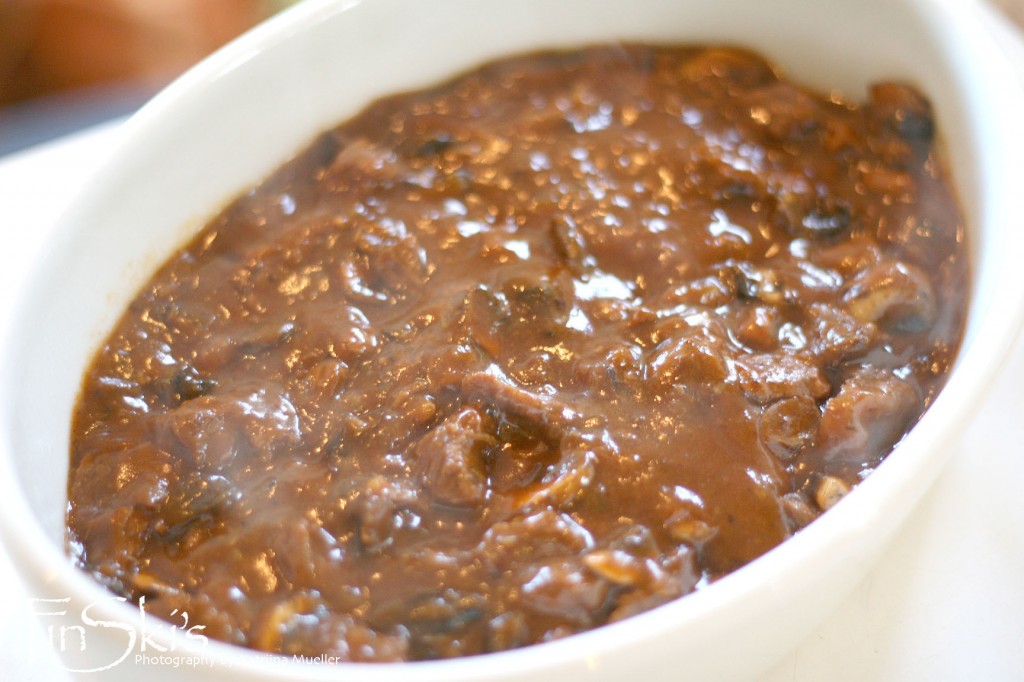 While you wait for the meat to cook and become super tender, place the potatoes in the microwave and cover with paper towel.
Cook for 10 minutes and then test by piercing with a skewer. If the stick goes through easily then the potatoes are ready, if not cook for anther 2 minutes and test again.
Remove once cooked and let them cool enough for you to handle.
Peel the potatoes and mash in a saucepan, place over a low heat and make a little well in the centre. Add the butter and let it melt and stir into the potato.
Make another well in the centre and add the milk. Wait for it to start steaming and then incorporate the milk into the potato.
Remove from the heat and add the parmesan cheese and season with salt and pepper
Set this aside for now.
Make a slurry with the cornflour and water and stir and set aside.
Once the pie mixture has cooked remove it from the oven or open the pressure cooker and pour in the slurry. Stir this till it's completely incorporated into the mixture.
Top with the mash potato and then cook in a hot 220° oven for 25-30 minutes or till golden and bubbly.
Serve with a side of salad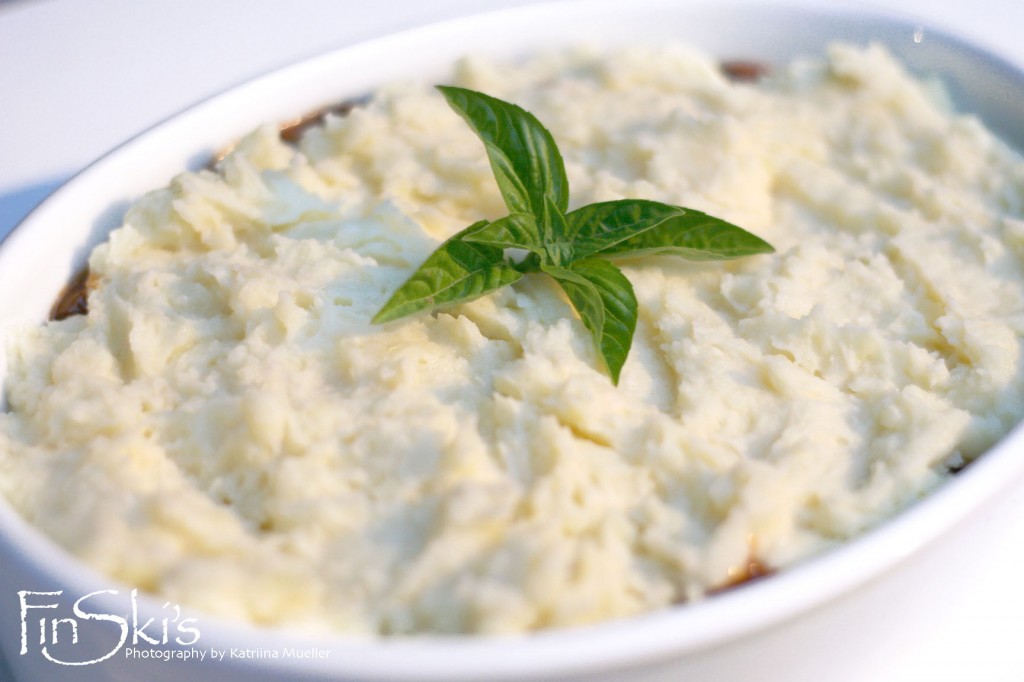 bellissimo!
Posted 5th June '13…
What's more warming on a cool winter's evening than a pie, and not just any pie, a cottage pie… The beautiful full flavours of the meat and mushroom mixture blanketed with a thick layer of soft, fluffy mash potatoes. This is the meal that you make a big batch of so you can freeze the leftovers in easy single meal versions and can just pull out of the freezer when you need an embracing food hug.
bellissimo! Blondie  🙂
Beef and Mushroom Cottage Pie
Recipe type:
Dinner | Comfort Foods
Prep time:
Cook time:
Total time:
Ingredients
500g chuck steak
1 onion
3 garlic cloves
1 celery stick
¼ c passata
2 c beef stock
1 tsp worstershire sauce
salt and pepper to taste
150g mixed mushrooms – shiitake, swiss brown, field
1 tbs cornflour
1 tbs water
Mashed potatoes
6 potatoes
2 tbs butter
¼ c milk – more or less may be needed
½ c parmesan cheese
Salt and white pepper to taste
Instructions
Grab some 'happy' beef chuck steak, flavour wise and health wise it's worth incorporating into your meals.
Heat some oil in a pan if you are going to cook this in the oven or just use your pressure cooker.
Brown the meat in batches and set aside.
Heat some more oil and gently cook the chopped onions for 10 mins, add the chopped celery and garlic and cook for a further 3 minutes.
Place the beef back into the pot and add the passata, beef stock and worstershire sauce.
Stir in the sliced mushrooms.
Place in a low 160° oven for 2 hours or cook in a pressure cooker for 40 minutes.
While you wait for the meat to cook and become super tender, place the potatoes in the microwave and cover with paper towel.
Cook for 10 minutes and then test by piercing with a skewer. If the stick goes through easily then the potatoes are ready, if not cook for anther 2 minutes and test again.
Remove once cooked and let them cool enough for you to handle.
Peel the potatoes and mash in a saucepan, place over a low heat and make a little well in the centre. Add the butter and let it melt and stir into the potato.
Make another well in the centre and add the milk. Wait for it to start steaming and then incorporate the milk into the potato.
Remove from the heat and add the parmesan cheese and season with salt and pepper. Set this aside for now.
Make a slurry with the cornflour and water and stir and set aside.
Once the pie mixture has cooked remove it from the oven or open the pressure cooker and pour in the slurry. Stir this till it's completely incorporated into the mixture.
Top with the mash potato and then cook in a hot 220° oven for 25-30 minutes or till golden and bubbly.
Serve with a side of salad
Notes
40 min cooking time for pressure cooker or 2 hours in 160° oven
30 minutes extra to finish the pie in the oven
(Visited 89 times, 1 visits today)