Ingredients
420g Pink Salmon
2 tsp ginger, minced
1 tsp galangal, minced
1 garlic clove, minced
1/2 onion, finely chopped
1 tbs coriander, finely chopped
1 tsp ground cardamon
1 tsp ground cumin
3 medium sized potatoes, skins on
For the crust
2 c Panko breadcrumbs
2 tsp baharat spice
2 eggs, whisked
1 c plain four
oil for deep frying
Method
Makes about 10 medium sized croquettes
Wrap the potatoes in a layer of kitchen towel and cook in the microwave for 4 mins. Test with a skewer if they are done, cook for a couple more minutes if needed. Remove and let cool while you prepare the other ingredients.
Remove the bones and skin from the salmon then place all the other ingredients in with the salmon.
Remove the skins from the potato and chop up roughly. Place in with the rest of the ingredients.
Mix together with a fork till well combined.
Using an ice cream scoop, portion out the salmon mixture then roll then into little sausage shapes.
Heat up the oil to 180°c / 355°f
Now prepare the crust assembly line – first place the flour on a large plate, next beat the eggs in a bowl and place that next the flour, now in a large bowl pour in the panko breadcrumbs and baharat spice mix and stir to combine.
Grab a croquette and roll it in the flour then, roll it in the egg and then coat in the breadcrumbs and baharat.
Continue till all the croquettes have been crumbed.
Place about 5 or 6 croquettes at a time in to the deep fryer and cook till golden brown.
Serve with a yoghurt dip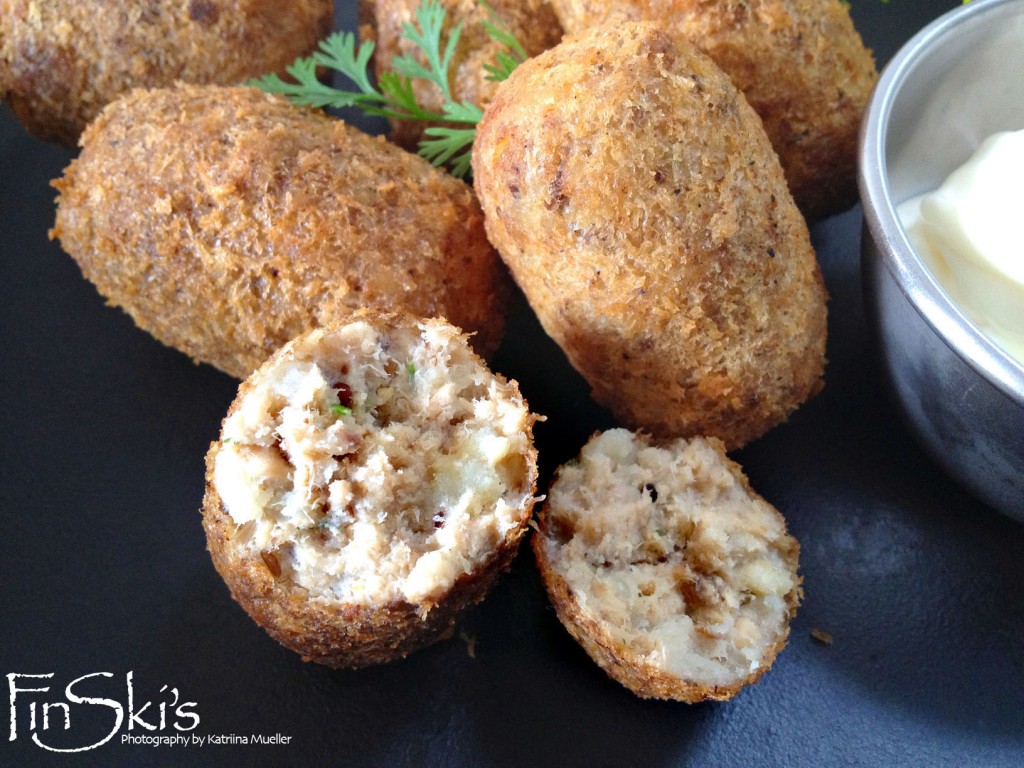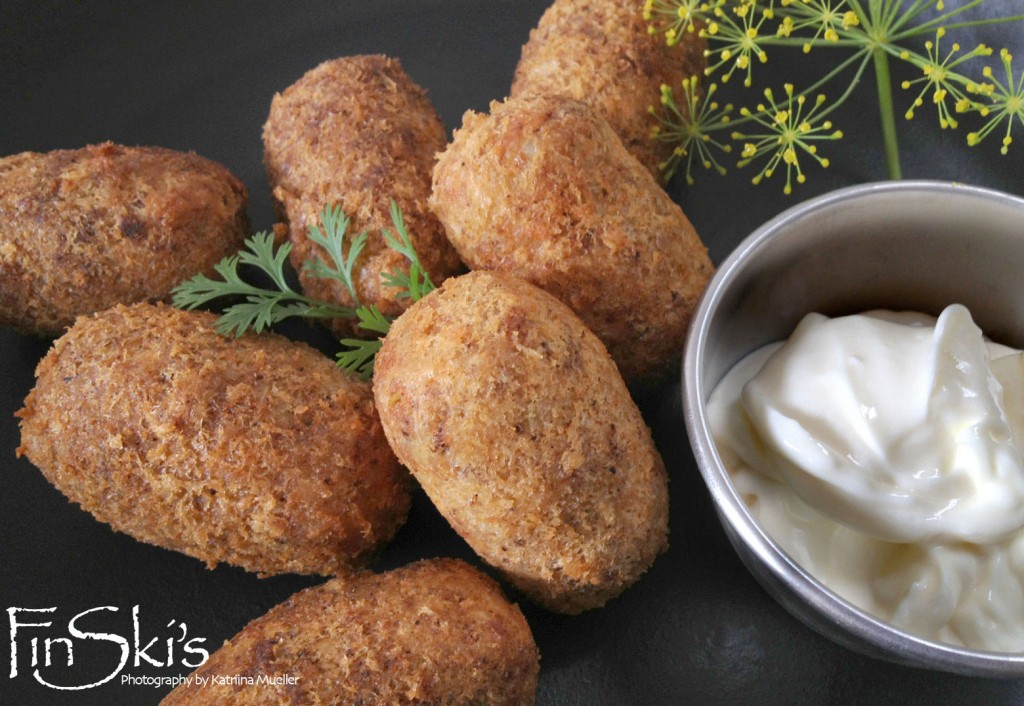 Recommended for you
Baharat and Panko Crusted Salmon Croquettes
Recipe type:
Dinner | Finger Food
Prep time:
Cook time:
Total time:
Here is a gorgeous mid-week meal to serve with a crisp salad and a little yoghurt... also works very well for finger food at a party!
Ingredients
420g Pink Salmon
2 tsp ginger, minced
1 tsp galangal, minced
1 garlic clove, minced
½ onion, finely chopped
1 tbs coriander, finely chopped
1 tsp ground cardamon
1 tsp ground cumin
3 medium sized potatoes
For the crust
2 cup Panko breadcrumbs
2 tsp baharat spice
2 eggs, whisked
1 cup plain four
oil for deep frying
Instructions
With the skins still on wrap the potatoes in a layer of kitchen towel and cook in the microwave for 5 mins. Test with a skewer if they are done, cook for a couple more minutes if needed. Remove and let cool while you prepare the other ingredients.
Remove the bones and skin from the salmon then place all the other ingredients in with the salmon.
Remove the skins from the potato and chop up roughly. Place in with the rest of the ingredients.
Mix together with a fork till well combined.
Using an ice cream scoop, portion out the salmon mixture then roll then into little sausage shapes.
Heat up the oil to 180°c / 355°f
Now prepare the crust assembly line – first place the flour on a large plate, next beat the eggs in a bowl and place that next the flour, now in a large bowl pour in the panko breadcrumbs and baharat spice mix and stir to combine.
Grab a croquette and roll it in the flour then, roll it in the egg and then coat in the breadcrumbs and baharat.
Continue till all the croquettes have been crumbed.
Place about 5 or 6 croquettes at a time in to the deep fryer and cook till golden brown.
Serve with a yoghurt dip
(Visited 166 times, 1 visits today)