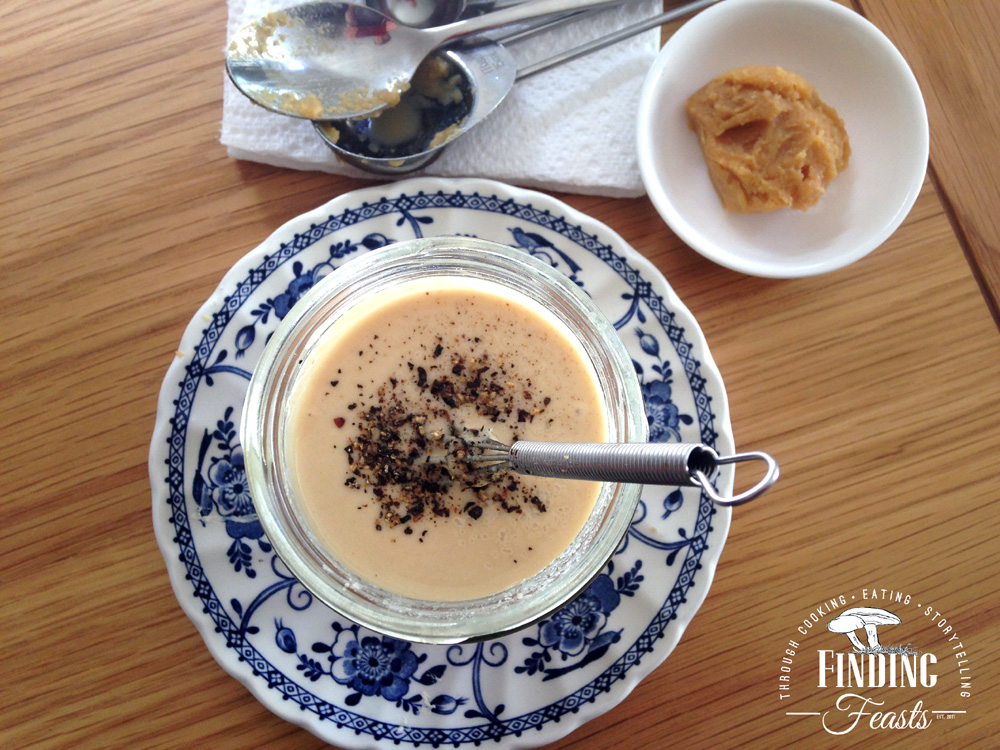 Tahini & Miso Dressing – OK, I rarely come across a simple recipe that I think is to-die-for but this one is it! This tahini & miso dressing recipe is addictive, I mean REALLY addictive! With four simple ingredients you can't go wrong.
I love making my dressing but of late have been sticking to two well worn out recipes, wholegrain mustard with lemon and garlic or balsamic vinegar….boring!
I was first introduced to this recipe by Miss H's nan and pop. Nan and pop visit us every few weeks and when they do pop cooks amazing dishes, dishes that I would typically not cook myself. Nan and pop are into hip stuff like yoga, meditation and macrobiotics.
Macro what I hear you ask? No this isn't another new fad diet, it is a lifestyle. The macrobiotic philosophy has been around for centuries. The main principles are centered around  holistic nutrition, understanding where your food came from, how it was handled, eating seasonal, local food that is chemical free. It promotes eating grains and plenty of fresh vegetable but limits the intake of animal products.
During the last visit pop made this tahini and miso dressing with fried tofu and braised green vegetables. Utterly divine I tell you! Tofu can be quite bland but by adding this yummy dressing the tofu come to life.
Make a batch of this at the beginning of the week, keep it in the fridge and use as required. If you add less liquid it easily transforms to tasty dip with some flat bread or carrot sticks when you are feeling peckish. It is my go to treat at work when 3 o'clock-itis kicks in.
Bella