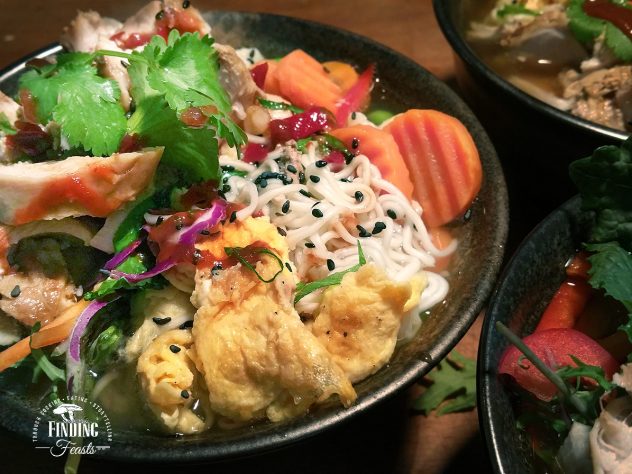 Loaded Chicken Noodle Soup w/ Omelette – Looking for a quick meal to make that's delicious and healthy also? You can't go past this soup. Plus, leftover chicken gets shredded for sandwiches over the next day or two…. hmmm, poached chicken and mayo with salad sandwiches…
What I love about this soup is that all the hard work is done with very little effort from you. The whole chicken and the flavourings added to the cooking water are busy doing their thing. The water is being turned into a fragrant stock and the chicken is cooking in one of the most gentlest ways possible, leaving it fall off the bone tender and juicy.
When you get home, all you need to do is put the whole chicken (or chicken pieces) in a pot large enough to hold it and throw in all the ingredients for the soup base. Leave it to cook for 60 minutes while you are getting out of your work gear and then it's basically done.  You just need to compile and then devour.
Another reason chicken soups like these are so fantastic and easy to make, is because you can use frozen chicken, straight from your freezer. I know! Amazing, right?! This one was actually made with a whole frozen chicken. The time is a little longer, closer to 1hr 40mins or so, depending on size, but the result is the same. Just make sure you have a meat thermometer so you can check that it's fully cooked on the inside. You want the internal temperature to be 75°C / 167°F for chicken.
Any part of the chicken is suitable in this recipe so keep some thighs or breasts permanently stocked in your freezer, along with a bag of frozen veggies and you will always have chicken soup.
Happy slurping! Blondie
(Visited 40 times, 1 visits today)