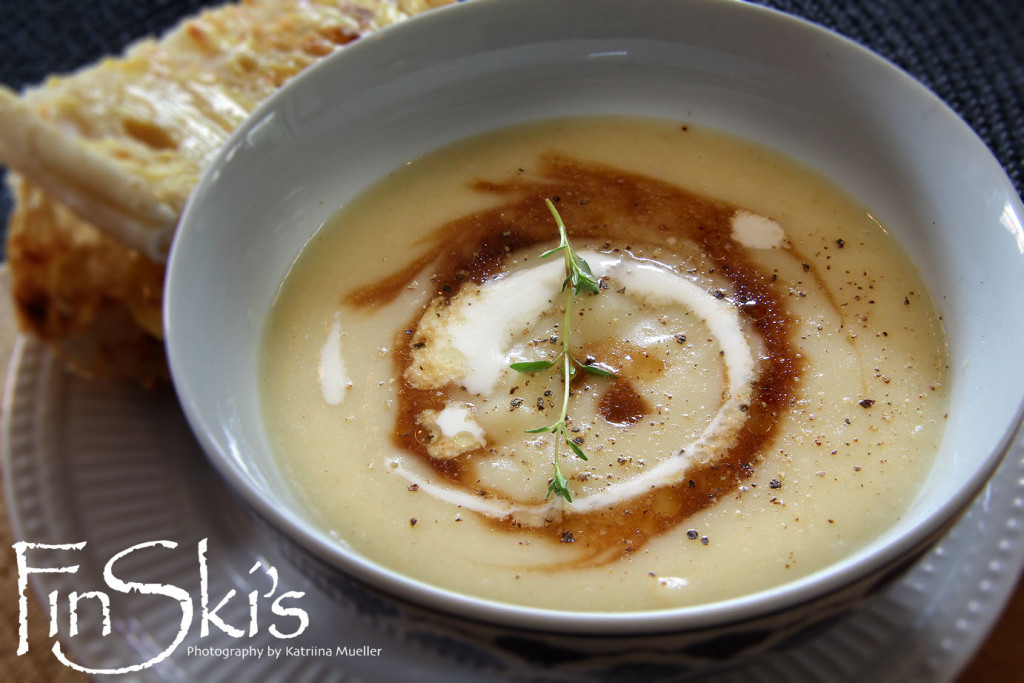 Leek & Potato Soup w/ Onion Puree and Caramelised Onion Oil is heaven sent when you've got a cold.
As my boy is home sick from school with a cold today, I did the motherly thing and made some soup. Nothing is better than a piping hot bowl of soup to make you feel all warm and toasty on the inside.
This is my basic recipe for one of the food world's most enduring partnerships … leek and potatoes. It's also a fantastic canvas for experimenting with added flavours, which is why the onion puree has been introduced, which in turn produced an amazing by-product of the Caramelised Onion Oil that just had to be included in it.
Having come across a puree recipe from Chef Steps a little while ago, I was eager to incorporate it into a dish, and this was perfect. The Onion Puree is super simple to make, just bung some onions into a hot oven with some oil and salt and roast for 2 hours. The end result is incredibly sweet onions melting inside their skins. This gets pureed and voila, a tasty element to add to soups, risottos, aioli etc. But, what go me so excited was the  left over oily, caramelised, sweet and salty juices left in the baking dish – Oh my! You really have to make this for yourself.
Happy sopping – Blondie 🙂
(Visited 15 times, 1 visits today)