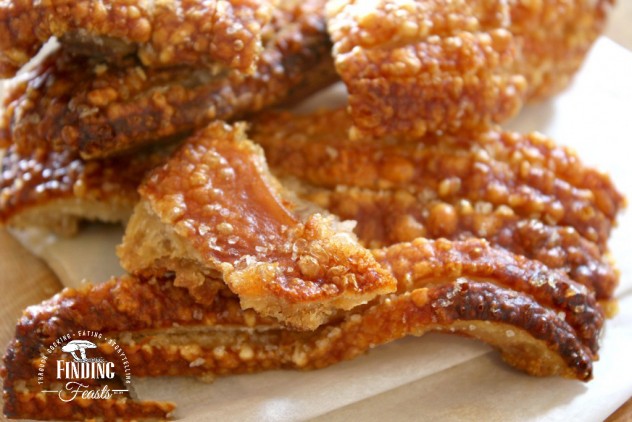 How to make the perfect pork crackling… Pork crackling is as important a part of my Christmas dinner as the ham or the pudding.
Every year my dad makes a delicious Christmas cocktail to greet all the family when we arrive, each year it's different and sometimes quite experimental, but this is generally when the crackling gets eaten as no one can wait till dinner time – cocktails and crackling what better way to start a beautiful Christmas evening…
Since most of us in Australia will buy a Smoked Leg of Ham – and you can't use the skin off this, you will need to buy the pork skin separately from your butcher. It is so cheap, if not free if you are lucky, so buy up big.
There are some vital elements to making this that will determine whether you succeed or fail…
Firstly, get pork skin that has quite a bit of fat still under the skin, at minimum there needs to be .5cm. It's the the contrast of the  juicy fat under the crispy skin that makes pork crackling perfect!
Secondly, get your butcher to score the skin. You may think you can do it yourself but trying to score skin that's flat on a bench is really hard. They have super sharp knives and can do it seconds flat!
Finally, the pouring over of the boiling water is what will open up the scored skin, which will then let in the salt, which then forms the crispy skin. Without one process the others won't work.
Happy crunching!  Blondie.
(Visited 89 times, 1 visits today)