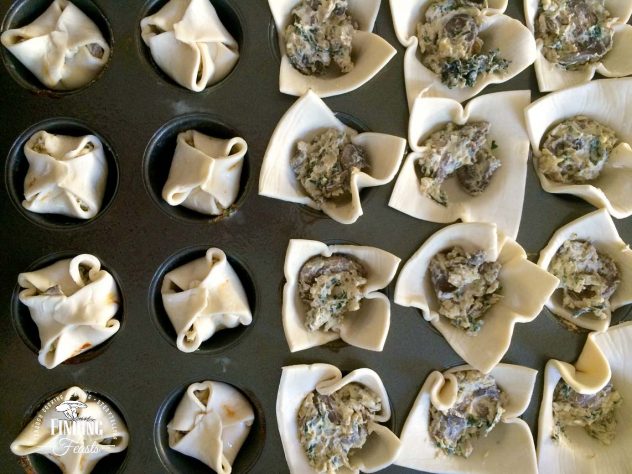 Author: Finding Feasts
Prep time: 45 mins
Cook time: 20 mins
Total time: 1 hour 5 mins
250g mushrooms, roughly chopped (mix shiitake, button and portobello)
1 onion, finely diced
2 garlic cloves, minced
4 silverbeet leaves, roughy chopped
½ tsp salt
½ tsp pepper
¼ tsp oregano
250g cream cheese
½ cup parmesan cheese
Puff pastry
1 egg for egg wash
Pre heat oven to 200°c / 400°f
Pull out pastry to defrost and be ready to use in half an hour.
Place a little oil in a pan and gently fry the onion till tender. Place in the garlic and cook a further 1 minute.
Add the mushrooms and cook on a medium to high heat till they look nice and brown.
Add the spinach and salt, pepper and oregano, stirring till well combined.
Keep cooking till most of the liquid has evaporated. Remove from the heat and leave to cool for about 20 minutes.
Once cooled (doesn't need to be stone cold, just a luke warm will do) mix in the cream cheese and parmesan stirring till well combined.
Beat the egg with a fork and set aside.
Cut the pastry into 9 squares and place in a mini muffin tray.
Spoon a teaspoon or so of mixture into the pastry and then fold over the opposite corners. Press together and the brush with the egg wash.
Cook in the hot oven for about 20 minutes or till puffed and golden.
Recipe by
Finding Feasts
at http://www.findingfeasts.com.au/recipe-index/cheesy-mushroom-puffs/