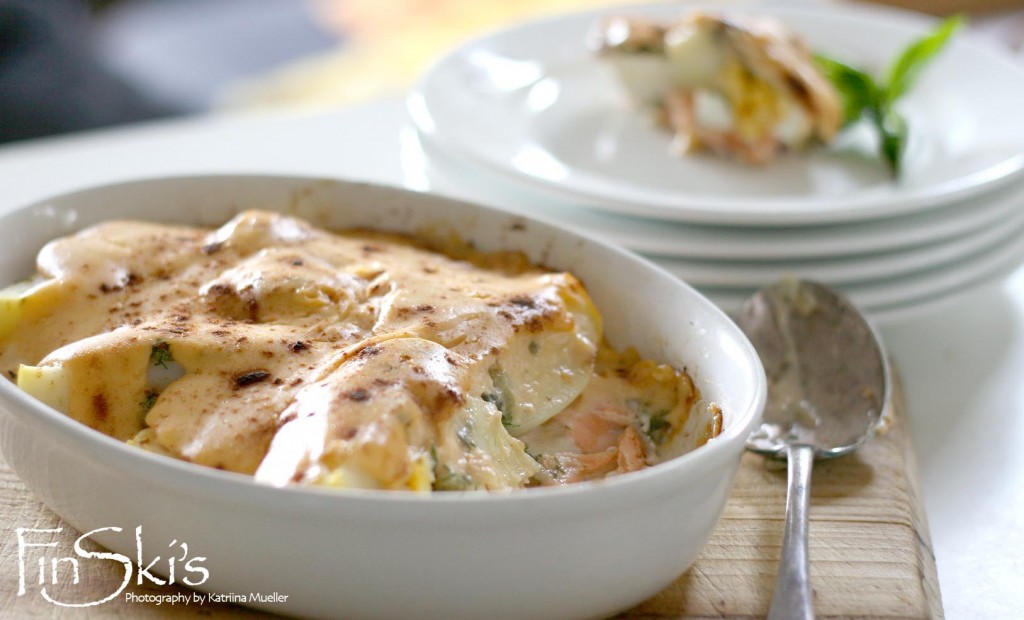 Smoked Salmon Gratin with a Dry Salsa Verde
Cook time: 1 hour 30 mins
Total time: 1 hour 30 mins
Delicious smokey salmon with a tasty white sauce - simply stunning
600g boneless, skinless salmon or purchase pre smoked salmon
6 hard-boiled eggs, peeled (click here for perfectly boiled eggs)
4-6 mid sized potatoes
2 tsp sweet paprika
White Sauce
70g butter
½ c plain flour
3½ c milk
2 tsp worcestershire sauce
1 tbs tomato sauce
½ tsp cayenne pepper
½ tsp nutmeg
salt and pepper to taste
Dry Salsa Verde
2 tbs capers
2 sweet and sour gherkins
2 tbs dill
2 tbs parsley
For Smoking
2-3 handfuls of smoking sawdust
1 tbs raw sugar
2 sprigs each of basil and rosemary (not necessary but adds a lovely flavour)
To smoke the salmon line a large pan or wok with a couple of layers of foil. Pour in the sawdust, sugar and the herbs you wish to include
Place a steamer or wire rack over the sawdust and line with greaseproof paper with holes cut out.
Lay the salmon in the steamer and push down the sides of the foil to stop any smoke seeping out.
Turn on the heat to high and leave it to get to a rolling smoke, about 4 minutes.
Turn the heat down to low and cook, undisturbed for 15 minutes.
Turn the heat off and leave to rest and absorb the smoke for 12 minutes.
Dry Salsa Verde
Finely chop the gherkins, roughly chop the capers, dill and parsley. Stir well in a bowl and set aside till needed.
Cut the boiled eggs into quarters, set aside.
Cut the boiled potatoes into quarters and set aside.
Remove the salmon from the smoker and break into chunks, set aside
White sauce
Melt the butter and then stir in the flour using a whisk. Cook on a medium heat for 3 minutes. Slowly add the milk and stir continuously till it comes close to a boil and thickens. Add the nutmeg, cayenne pepper the Worcestershire and tomato sauces. Taste and add salt and pepper to your liking.
Line the base of a baking dish with the salmon, lay the quartered egg and potato over the salmon.
Scatter the dry salsa verde over the top.
Pour over the white sauce and sprinkle the sweet paprika on top
Cook for about 15-20 minutes or till lightly golden.
Serve hot with a crisp green salad on the side.
Recipe by
Finding Feasts
at http://www.findingfeasts.com.au/recipe-index/smoked-salmon-gratin-with-a-dry-salsa-verde/