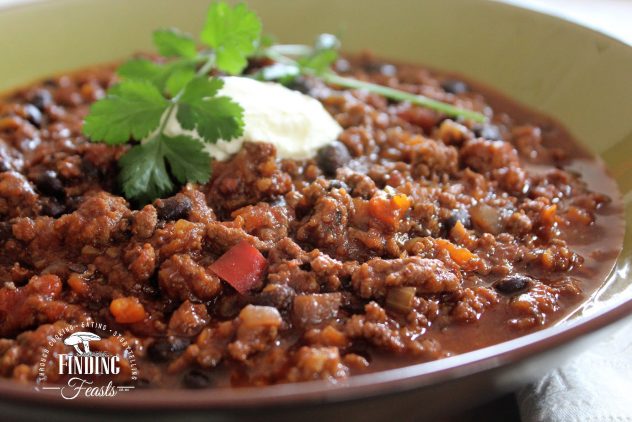 Best Ever Chili Con Carne w/ Chorizo & Dates – You may be a little surprised with the use of dates in this recipe but rest assured, once you have tried it you will be hooked.
So why did I use dates? Well, a chili con carne ideally uses a variety of peppers, each adding their own uniqueness to the dish. For example, capsicum adds a sweet, bright flavour without any heat. Chipotles add a warming heat with a smoky tobacco flavour. Arbol or similar are the fire and Ancho add a deep almost fruity flavour. If you find a pepper to match each of these four flavour groups you will have a well rounded dish.
As I didn't had all the peppers available to me I improvised. Missing the deep fruity flavour, I dug around and found dates. Perfect! Blending the dates with the chipotles and tomatoes to make a rich, hot and smokey paste, which was smoothed out with the addition of the dates was pure genius… if I do say so myself.
The addition of chorizo adds a slightly different texture to the mince plus, depending on your chosen chorizo sausage it can add extra heat and spiciness. I cook the sausage at the beginning so as to use the rendered fat to cook the onions in. Setting it aside till the end means the chorizo crumbs remain little flavour bombs rather than melding into the flavour pot.
Chili con carne along with bolognese is a mince dish that is best made in bulk as reheated meals always taste so good. And having frozen portions in the freezer means you will always have a delicious meal available… Stuffed baked potatoes or zucchinis. Use it on your nachos or burritos.
Endless possibilities… Blondie 🙂
(Visited 43 times, 1 visits today)