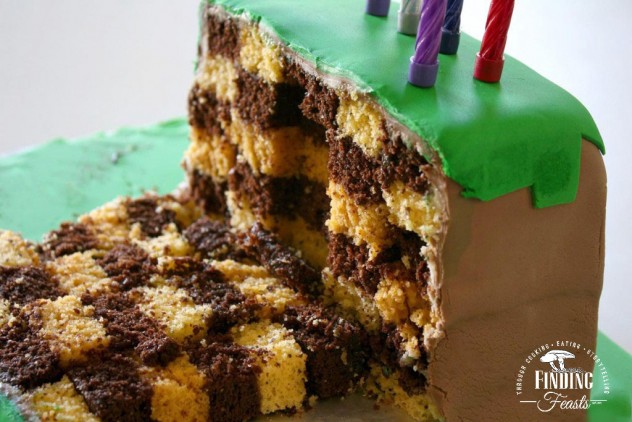 Checkered Birthday Cake – Dirt Block Minecraft Cake… It was my son's birthday last week and of course the cake was left to the very last minute. Considering last year's cake was a hasty store bought chocolate cake that I threw coloured specks at, surrounded with plastic rings and stuck a Power Rangers dude on – which he absolutely loved – I knew the last resort would be, at the very least something similar. I mean really,  I have yet to hear of a kid having a tantrum when they saw their cake on their birthday, so long as it has candles, colour and people singing "Happy Birthday" you really can't go wrong… but I still had hope that I could pull something spectacular out of a hat.
With only 2 days left, finally an idea comes to me… Minecraft!
Minecraft is his greatest love at the moment and I can't believe that it didn't hit me sooner. So with the clock fast ticking down, I needed a plan of action and unfortunately it was too late to pay someone else to make it – I had to do it myself.
Action plan…
Thursday: Make the sponge cakes – I ended up with 3 usable ones out of 5 made
Friday: Construct a work of art with fondant – Well it kind of resembled what I had finally decided on
What I was actually going to construct from the Minecraft game was still being tossed around at lunch on Friday, but settled on a dirt block (I realise that unless you know even the basics of this game a dirt block birthday cake just seems too strange for words).
Now, I love to sculpt and had this picture in my head of a beautiful dirt block that was going to wow all the kids (and anyone else who's eye-line would pass across this Minecraft beauty) but being realistic I knew I needed something that would make this mound of dirt even more spectacular, just in case the outside wasn't what I was hoping for.
Checkered sponge on the inside! The idea was to have the 8bit effect on the inside just in case the outside failed to represent that effect to my expectation. We want pixels!
I am very fortunate to have an amazing friend who is a stunning cake designer and was able to give me a few hours of mentoring on the Friday, who without guidance (and some tools) this would have been quite a unique cake, to say the least.
All up it was a great first attempt at cake sculpting and will next year aim to start something like this 2 weeks prior!
Oh… and complete respect to all cake makers/artists out there, it's insanely hard to master sugar and they deserve every single dollar that they charge for their designs!
Happy Birthday…  from mum (Blondie) xxx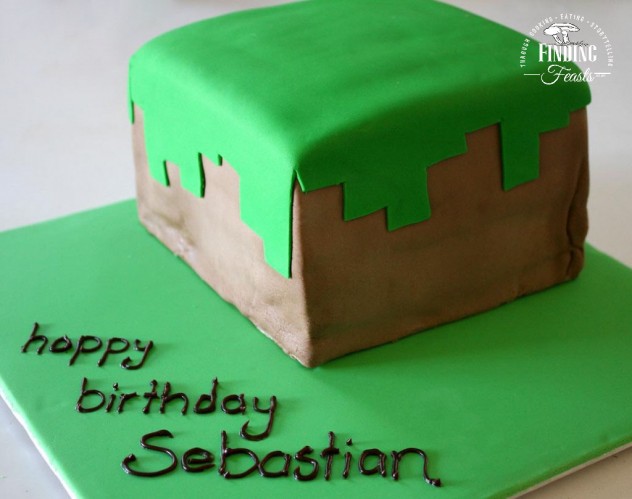 (Visited 1,039 times, 1 visits today)