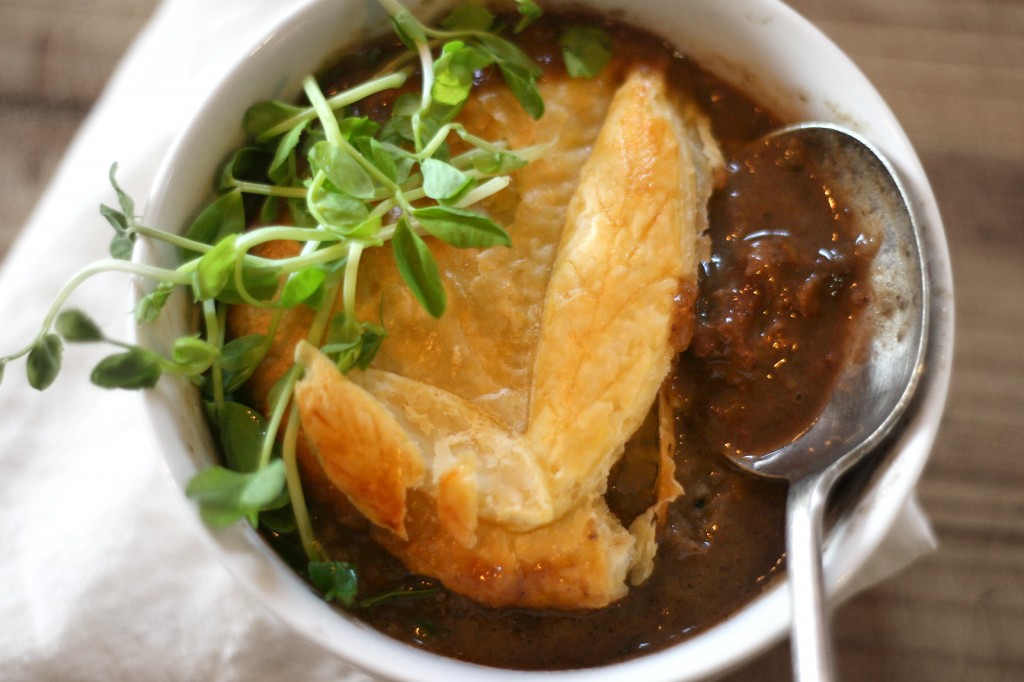 Well, with Frost Fest 2013 now done and dusted, I have to say that for Bella and myself, for our first restaurant service, we kicked ass! Rave reviews for our mushroom dishes from everyone who dined at the vineyard and now an eagerness to get ourselves out at the markets before Christmas… what a thrill it was, so a massive thank you to Jonathan, Jess and Valerie of Stockman's Ridge Wines for having faith in us to compliment their wines with our dishes… a much appreciated learning experience.
With that said, here is one of Saturday's sellout dishes, Individual Braised Beef Cheek and Mushroom Pies. The original pie recipe I had planned for was a Rabbit and Mushroom Pie, but with a complete lack of rabbits in Orange at that particular time I needed to change it. So after a discussion with the butcher I left with 2kg of beef cheeks and 7kg of chicken carcasses (for the rich chicken stock). With the luxurious texture of the beef cheek and silkiness of the gravy teamed with the mixed mushroom topping, it was sure to be hit! I was completely inspired by a recipe I came across at Grazing At Large's food blog, the changes are only due to substituting ingredients that I didn't have available, that and punching up the mushroom quota and intensity.
The beef cheeks were sourced through M&J Butchers in Orange, NSW and what a treat they were too. Already trimmed of fat and ready to go, and the flavour was outstanding!
The greatest thing about this dish is if you are having a group of people for a dinner party, the three different elements can be pre prepared and then assembled and reheated when needed. Serve with a walnut salad on the side with a mustard and balsamic dressing and you are sure to wow your guests with such a flavoursome dish.
Cheers and enjoy!
Blondie
(Visited 27 times, 1 visits today)