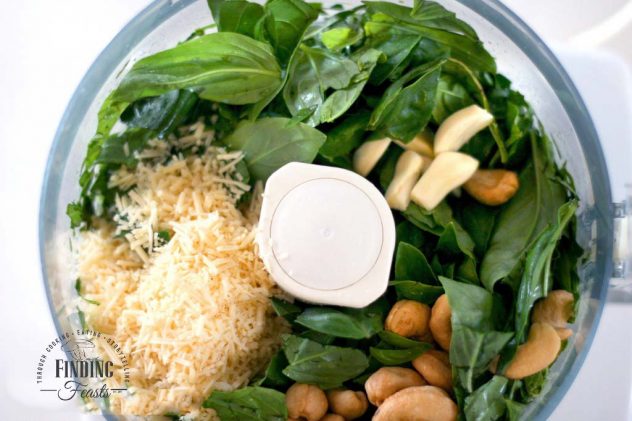 Basil Pesto with Cashew Nuts – With spring now here, the heady scent of fresh herbs is hard to ignore. It's impossible to walk pass the veggie shop and not grab a bunch of basil – I will have fresh basil growing in my garden again shortly, but till then I'm happy to pay for it.
Pesto is eaten in large amounts by my family, especially my son who has it on pizza, pasta or just by the spoonful after I've made a fresh batch of pesto. I make it 2 ways, the first being the obvious – that's with pine nuts and a nice bitey, hard cheese – and the second is this recipe.
I find that using cashews makes the pesto a little creamier and the flavour to be a little more subtle – and they are also cheaper than pine nuts, which is a benefit if working within a budget.
The cheese in this recipe is just the grated Parmesan from your local supermarket's fridge section.
I freeze my excess pesto in zip lock bags and break off chunks as I need them, which means I generally always have some on hand. I have been doing it this way for years and have never had an issue, but feel that I should bring up a conversation I had with my brother-in-law. He mentioned something about the breeding of the botulism bacteria, something to do with the basil and the freezer not being able to freeze it to a temperature that is safe and stable. I have also looked into it and am happy to continue with this way of storing as we really do go through it quite fast. I've happily eaten my pesto up to 2 months of it being frozen.
Has anyone had problems with freezing pesto? I would love to know.
But that being said, for me there is always a meal if you have pesto in the house. If you have yet to make fresh pesto for yourself then I urge you to give it a go.
Enjoy!
Blondie
(Visited 49 times, 1 visits today)